Automatic dimming interior rear view mirror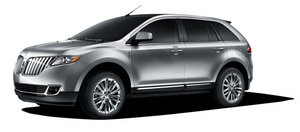 The interior rear view mirror and a driver's side exterior mirror have an auto-dimming function. The electronic day/night mirrors will change from the normal (high reflective) state to the non-glare (darkened) state when bright lights (glare) reach the interior mirror. When the interior mirror detects bright light from behind the vehicle, the interior rear view mirror and the driver's side exterior mirror will automatically adjust (darken) to minimize glare.
The mirrors will automatically return to the normal state whenever the vehicle is placed in R (Reverse) to ensure a bright clear view when backing up.
Do not block the sensors on the front and back of the interior rear view mirror since this may impair proper mirror performance.
Note: A rear center passenger and/or raised rear center headrest (if equipped) may also block the light from reaching the sensor.
Do not clean the housing or glass of any mirror with harsh abrasives, fuel or other petroleum-based cleaning products.
See also:
When fail-safe mode is activated
You have limited engine power when in the fail-safe mode, so drive the vehicle with caution. The vehicle will not be able to maintain high-speed operation and the engine will run rough. Remember t ...
Tilt/telescope steering wheel (if equipped)
To adjust the steering wheel: 1. Pull the lever down to unlock the steering column. 2. While the lever is in the down position, move the steering wheel up or down and in or out until you ...
Ford Esp Extended Service Plans (U.S. only)
More than 32 million Ford and Lincoln owners have discovered the powerful protection of Ford ESP. It is the only extended service plan backed by Ford Motor Company, and provides "peace of mind" ...