Automatic dimming interior rear view mirror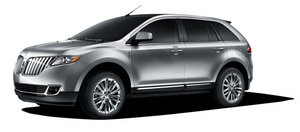 The interior rear view mirror and a driver's side exterior mirror have an auto-dimming function. The electronic day/night mirrors will change from the normal (high reflective) state to the non-glare (darkened) state when bright lights (glare) reach the interior mirror. When the interior mirror detects bright light from behind the vehicle, the interior rear view mirror and the driver's side exterior mirror will automatically adjust (darken) to minimize glare.
The mirrors will automatically return to the normal state whenever the vehicle is placed in R (Reverse) to ensure a bright clear view when backing up.
Do not block the sensors on the front and back of the interior rear view mirror since this may impair proper mirror performance.
Note: A rear center passenger and/or raised rear center headrest (if equipped) may also block the light from reaching the sensor.
Do not clean the housing or glass of any mirror with harsh abrasives, fuel or other petroleum-based cleaning products.
See also:
Second generation (2003–2006)
The Navigator was updated in 2003, along with the Ford Expedition, on the new Ford U platform. The interior was also substantially revised to bring it up to the level expected by luxury buyers. So ...
When Inflating Your Tires
When putting air into your tires (such as at a gas station or in your garage), the tire pressure monitoring system may not respond immediately to the air added to your tires. It may take up to tw ...
Front crash severity sensor
The front crash severity sensor enhances the ability to detect the severity of an impact. Positioned up front, it provides valuable information early in the crash event on the severity of the impa ...