What you should know about fail-safe cooling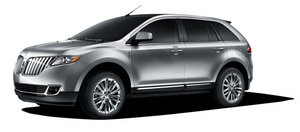 If the engine coolant supply is depleted, this feature allows the vehicle to be driven temporarily before incremental component damage is incurred.
The Уfail-safeФ distance depends on ambient temperatures, vehicle load and terrain.
How fail-safe cooling works
If the engine begins to overheat:
Х The engine coolant temperature gauge will move to the red (hot) area.
Х The service engine soon

symbol will illuminate.
If the engine reaches a preset over-temperature condition, the engine will automatically switch to alternating cylinder operation. Each disabled cylinder acts as an air pump and cools the engine.
When this occurs the vehicle will still operate. However:
Х The engine power will be limited.
Х The air conditioning system will be disabled.
Continued operation will increase the engine temperature:
Х The engine will completely shut down.
Х Steering and braking effort will increase.
Once the engine temperature cools, the engine can be re-started. Take your vehicle to an authorized dealer as soon as possible to minimize engine damage.
When fail-safe mode is activated
You have limited engine power when in the fail-safe mode, so drive the vehicle with caution. The vehicle will not be able to maintain high speed operation and the engine will run rough. Remember that the engine is capable of completely shutting down automatically to prevent engine damage, therefore:
1. Pull off the road as soon as safely possible and turn off the engine.
2. Arrange for the vehicle to be taken to an authorized dealer.
3. If this is not possible, wait a short period for the engine to cool.
4. Check the coolant level and replenish if low.
WARNING: Fail-safe mode is for use during emergencies only.
Operate the vehicle in fail-safe mode only as long as necessary to bring the vehicle to rest in a safe location and seek immediate repairs.
When in fail-safe mode, the vehicle will have limited power, will not be able to maintain high-speed operation, and may completely shut down without warning, potentially losing engine power, power steering assist, and power brake assist, which may increase the possibility of a crash resulting in serious injury.
WARNING: Never remove the coolant reservoir cap while the engine is running or hot.
5. Restart the engine and take your vehicle to an authorized dealer.
Driving the vehicle without repairing the engine problem increases the chance of engine damage. Take your vehicle to an authorized dealer as soon as possible.
See also:
Satellite radio information (if equipped)
Satellite radio channels: SIRIUS broadcasts a variety of music, news, sports, weather, traffic and entertainment satellite radio channels. For more information and a complete list of SIRIUS satell ...
Battery
Your vehicle is equipped with a Motorcraft maintenance-free battery which normally does not require additional water during its life of service. Note: If your battery has a cover/shield, make ...
Recycled engine coolant
Ford Motor Company does NOT recommend the use of recycled engine coolant since a Ford-approved recycling process is not yet available. Used engine coolant should be disposed of in an appropriate ...