Autolamp control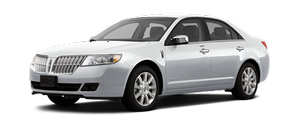 The autolamp system provides light sensitive automatic on-off control of the exterior lights. When selected, the automatic high beam system is active, if equipped and if enabled.
See Auto high beams later in this chapter.
Х To turn autolamps on, rotate the control counterclockwise to

.
Х To turn autolamps off, rotate the control clockwise to off.

The autolamp system also keeps the lights on for a predetermined amount of time after the ignition is turned off. You can change the amount of time the lamps stay on by using the programming procedure that follows:
Note: With autolamps, your vehicle has a headlamps on with windshield wipers feature. If the windshield wipers are turned on (for a brief period of time), the exterior lamps will turn on with the headlamp control in the autolamp position.
Autolamps - Programmable exit delay
Programmable exit delay allows the length of the autolamp exit delay to be changed.
To program the auto lamp exit time delay:
1. Start with the ignition off and the headlamp control in the autolamp position.
2. Turn the headlamp switch to off.
3. Turn the ignition on and then off.
4. Turn the headlamp switch to the autolamp position. The headlamps will turn on.
5. Wait the desired amount of time for the exit delay you want (up to three minutes), then turn the headlamps off.
See also:
Vertical aim adjustment
1. Park the vehicle directly in front of a wall or screen on a level surface, approximately 25 feet (7.6 meters) away. Х (1) 8 feet (2.4 meters) Х (2) Center height of lamp to ground Х (3) 25 ...
Driving style Ч good driving and fuel economy habits
Give consideration to the lists that follow and you may be able to change a number of variables and improve your fuel economy. ...
Positions of the ignition
1. OffЧ locks the gearshift lever and allows key removal. This position also shuts the engine and all electrical accessories off. Note: In order to switch off the engine while the vehicle ...