Autolamp control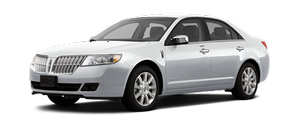 The autolamp system provides light sensitive automatic on-off control of the exterior lights. When selected, the automatic high beam system is active, if equipped and if enabled.
See Auto high beams later in this chapter.
Х To turn autolamps on, rotate the control counterclockwise to

.
Х To turn autolamps off, rotate the control clockwise to off.

The autolamp system also keeps the lights on for a predetermined amount of time after the ignition is turned off. You can change the amount of time the lamps stay on by using the programming procedure that follows:
Note: With autolamps, your vehicle has a headlamps on with windshield wipers feature. If the windshield wipers are turned on (for a brief period of time), the exterior lamps will turn on with the headlamp control in the autolamp position.
Autolamps - Programmable exit delay
Programmable exit delay allows the length of the autolamp exit delay to be changed.
To program the auto lamp exit time delay:
1. Start with the ignition off and the headlamp control in the autolamp position.
2. Turn the headlamp switch to off.
3. Turn the ignition on and then off.
4. Turn the headlamp switch to the autolamp position. The headlamps will turn on.
5. Wait the desired amount of time for the exit delay you want (up to three minutes), then turn the headlamps off.
See also:
ABS warning lamp
The ABS lamp in the instrument cluster momentarily illuminates when the ignition is turned on. If the light does not illuminate during start up, remains on or flashes, the ABS may be disab ...
Safety practices
Driving habits have a great deal to do with your tire mileage and safety. Х Observe posted speed limits Х Avoid fast starts, stops and turns Х Avoid potholes and objects on the road Х Do not ...
Child restraint and safety belt maintenance
Inspect the vehicle safety belts and child safety seat systems periodically to make sure they work properly and are not damaged. Inspect the vehicle and child seat safety belts to make sure there ...