Filling the tank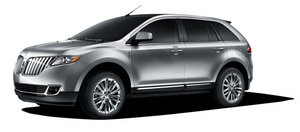 The advertised fuel capacity of the fuel tank on your vehicle is equal to the rated refill capacity of the fuel tank as listed in the Maintenance product specifications and capacities section of this chapter.
The advertised capacity is the amount of the indicated capacity and the empty reserve combined. Indicated capacity is the difference in the amount of fuel in a full tank and a tank when the fuel gauge indicates empty. Empty reserve is the small amount of fuel remaining in the fuel tank after the fuel gauge indicates empty.
The amount of usable fuel in the empty reserve varies and should not be relied upon to increase driving range. When refueling your vehicle after the fuel gauge indicates empty, you might not be able to refuel the full amount of the advertised capacity of the fuel tank due to the empty reserve still present in the tank.
For consistent results when filling the fuel tank:
Х Turn the engine/ignition switch to the off position prior to refueling, an error in the reading will result if the engine is left running.
Х Use the same filling rate setting (low Ч medium Ч high) each time the tank is filled.
Х Allow no more than two automatic click-offs when filling.
Х Always use fuel with the recommended octane rating.
Х Use a known quality gasoline, preferably a national brand.
Х Have the vehicle loading and distribution the same every time.
Your results will be most accurate if your filling method is consistent.
See also:
2010 Lincoln MKZ Review
If you spend any amount of time trying to appear younger or seeking affirmation that you couldn't possibly look your age, the 2010 Lincoln MKZ isn't for you. The MKZ is a classy, luxurious and com ...
Power steering fluid
Check the power steering fluid. Refer to scheduled maintenance information. 1. Start the engine and let it run until it reaches normal operating temperature (the engine coolant temperature ...
Recommendations for attaching child safety restraints for children
WARNING: Airbags can kill or injure a child in a child seat. NEVER place a rear-facing child seat in front of an active airbag. If you must use a forward-facing child seat in the front seat, move ...