The Inside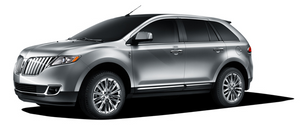 The MKX's cabin is mostly an asset, but a couple of aspects hold it back. I found it pretty easy to get into the seats, which provide a nice ride height without requiring a grappling hook Ч or step rails Ч to get situated. However, I'm 6 feet tall, and someone shorter might disagree. At present there are no factory-option running boards, and no assist handles in front. There's one on each B-pillar for the backseaters.
Once situated, drivers of different statures will be happy to find a standard tilt/telescoping steering wheel and a power seat with a generous range of height adjustment. Typical of moonroofs, though, the optional two-section Panoramic Vista Roof will cost you some headroom: 2.2 inches in the front seat and about a half inch in the backseat. The passenger also gets power seat controls, which are as difficult to access as the driver's when the doors are closed.
The backseat's 60/40-split segments can be reclined, using a prominent lever that's easy to reach. Thanks to the practically nonexistent door sill and nearly flat floor, the backseat is easy to access, roomy and comfortable. Even the center seat isn't bad if the backrests are reclined evenly. Only the outboard positions are eligible for two-setting heated seats; Lincoln kindly offers them as a stand-alone $295 option, the same price as for the front seats. (The fronts can be heated and cooled if you so choose.)
Like the Edge, the MKX has an exceptional center storage console. The upper level is deep enough to be useful, and the bottom is generous in volume down to its intermediate floor. Lift out that floor, and the capacity doubles. The floor panel serves as a divider if slid vertically into slots at the bottom. Also, well-designed notches on the passenger side allow cords from the 12-volt or auxiliary audio jacks to route up into the upper level, or out from under the closed armrest, or up and then out Ч it's versatile. The sunglass holder in the overhead console caught my attention with its smooth, noiseless operation. It had a feel you'd expect in a Lexus. Unfortunately, its edges were very sharp ... most un-Lexuslike.
Overall, the interior is clean and reasonably luxurious, with standard leather, pleasing shapes and, in my model, a sensible color pallet. The materials quality is mostly good, with soft surfaces where they matter most, like on the armrests and window sills. When night falls, you'll be pleased to find generous backlighting on almost every control Ч the steering wheel, door buttons and armrests, even the rear doors. The interior lighting appears to be LED but is nice and bright, unlike some early applications ... including the Lexus GS sedan. I enjoyed the two-panel Vista roof, whose motorized sunshades deploy and retract simultaneously. They're opaque, which is good, but they're thinner than the old sliding panel type, so they don't block noise. Overall, though, it's a quiet cabin.
The MKX interior has a fatal flaw that I can sum up in two words: satin nickel. Satin nickel is Lincoln's name for the metal-like finish on the center control panels and other surfaces of several models, including this one. When satin nickel made its debut a few years ago, I kind of liked it. A few things have happened since then: First, some people have proved to be offended by it, deeming it unfit for a luxury car. Second, fake metal has come a long way. Third, many automakers have said the heck with it and incorporated real metal. Fourth, the Edge SEL we tested was one of them.
Many passengers have reacted violently to the satin nickel in different Lincolns I've driven, and two or three have said it would be a deal breaker if they were shopping. Literally: "I'd consider it if it weren't for that."
Results, not formulae, are my bottom line. I've seen some imitation wood that looks better than some real wood, and I'd go for the one that looked best. With that established, I don't remember ever seeing fake metal that out-metals the real thing. Lincoln should spend the extra 5 cents ... or 50 cents ... or $5. Seriously, it will sell cars.
In my book, if you're doing a luxury-brand version of another model, you should start with the lesser model's most loaded trim level and then build upon it. If you're not doing that, I don't know how to respond to the shoppers who ask, "What's the difference between a Ford and a Lincoln, anyway?"
See also:
Auto high-beam headlamps
Auto high-beam headlamps also use the windshield-mounted camera to monitor traffic conditions and control high-beam activation. In darkness, the high-beam headlamps automatically illuminate unless ...
Safety
The MKX has the standard slate of six airbags, stability control and, as part of some option packages, blindspot monitoring. The 2011 MKX earned the top score, Good, in frontal, side and rear cras ...
One-time disable
If at any time the driver/front passenger quickly buckles then unbuckles the safety belt for that seating position, the Belt-Minder is disabled for the current ignition cycle. The Belt-Minder feat ...