Fun tuned in while noise is tuned out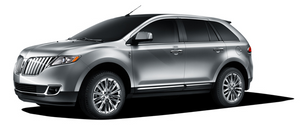 A wealth of upgrades means the 2011 Lincoln MKX will provide a more connected feel between the driver and the road through responsive acceleration, engaging steering, spirited handling and confident braking.
The new 18-inch tires have increased grip and are mounted on larger wheels than the outgoing product, helping enable enhanced stopping and improved handling. Twenty-inch wheels are available as well.
The springs, shocks and stabilizer bars also have been retuned to give the Lincoln MKX a flatter response through turns and over hills while still providing the comfortable ride luxury buyers expect and demand.
The original Lincoln MKX set many benchmarks in overall quietness, and that tradition continues as Ford internal preliminary data show the 2011 MKX scores better in speech recognition, wind noise and sound package than competitors from Lexus and Audi.
Both road noise and wind noise are significantly decreased in the 2011 MKX because of improvements found throughout the interior and exterior, including powertrain. Additional actions include:
Sound pack and acoustic glass: A more-absorptive sound pack is found throughout the interior, which reduces high-frequency noise more effectively than material that acts merely as a barrier. The result is an improved articulation index, which measures how easy it is to hear and understand someone in the vehicle. The 2011 Lincoln MKX also features an acoustic headliner, and the microphone for the SYNC system has been relocated so it is closer to the driver for improved voice recognition. The windshield also is thicker and acoustic-laminated for reduced wind noise. Acoustic glass in the front doors also is standard for the 2011 model. Finally, baked-on expandable foam baffles in the fenders and rear D-pillars help seal out unwanted road noise.
Powertrain NVH improvements: Three main actions contribute to a quieter 2011 Lincoln MKX from a powertrain NVH perspective. One is the more robust engine cover. Intake and exhaust systems also have been completely retuned for a crisper note corresponding to Lincoln powertrain DNA. Finally, a "tighter" torque converter reduces engine rpm on launch and tip-in events, reducing engine noise.
See also:
Multi-point Inspection
In order to keep your vehicle running right, it is important to have the systems on your vehicle checked regularly. This can help identify potential issues and prevent major problems. Ford Motor C ...
Cooled seats
The cooled seats will only function when the engine is running. To operate the cooled seats: Press once to activate the high cool setting (three indicator lights). Continue pressing to scroll throu ...
Active park assist (APA) (if equipped)
Active park assist (APA) will detect an available parallel parking space and automatically steer the vehicle into the space (hands-free) while you control the accelerator, gearshift and brakes. Th ...