The Bling Factor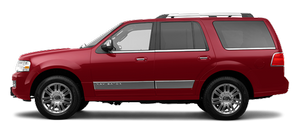 The dumbest question an automotive journalist could pose in regard to the new Lincoln Navigator would be, "What do you notice first when looking at it?" Duh! It might as well be called the Blingmobile, as my wife and I nicknamed it, thanks to its giant, diamond-cut chrome grille. Wait a second, is that chrome? Nope; chrome is very expensive these days and is rarely used on new cars and trucks. The grille is actually painted plastic, and when you get up close you can tell it isn't substantial. It sure looks real from far away, though, and will look that way to the people and drivers you pass on the street.
Personally, I liked the old blade-like grille on the previous Navigator and thought it could have been enlarged and chromed for the 2007 version, much like the Lincoln Mark LT's. That's enough virtual ink devoted to the grille, I think, and at least the headlights are well-integrated into the otherwise busy design. Take a walk around the rest of the Navigator and you'll wonder why it's so busy up front when from every other angle the design is incredibly subtle. My black test vehicle was the perfect color, and I couldn't really fathom anyone going for anything else Ч though I saw one in purple recently, and certainly that would not go unnoticed.
See also:
How does the safety belt pretensioner and airbag supplemental restraint system work?
The safety belt pretensioner and airbag SRS are designed to activate when the vehicle sustains longitudinal deceleration sufficient to cause the sensors to close an electrical circuit that ...
Protecting Your Investment
Maintenance is an investment that will pay dividends in the form of improved reliability, durability and resale value. To maintain the proper performance of your vehicle and its emission control s ...
Autolamp control
The autolamp system provides light sensitive automatic on-off control of the exterior lights normally controlled by the headlamp control. Х To turn autolamps on, rotate the control to . Х ...