New flowing exterior design perfectly wraps new Lincoln MKX technologies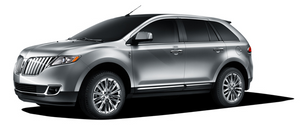 The flowing exterior design of the 2011 Lincoln MKX provides the perfect complement to the luxury crossover's industry-leading technology and class-exclusive features.
"The 2011 Lincoln MKX will be a real standout in the Lincoln showroom," said Doyle Letson, chief designer. "The addition of the new split-wing grille, a key to Lincoln signature DNA, is just the start. The 2011 MKX has the best proportions of any Lincoln we have.
"The fender line, with the raised arch over the front wheel, as well as the lower rocker detail with beautifully tapered bright detail that runs the length of the vehicle, makes a dramatic difference in side view," he added.
New for the 2011 model is an updated rear taillamp treatment. The lamps are now two distinct pieces that employ an indirect LED system that hides the light source while allowing the light intensity to shine through. The reverse sensors of the Blind Spot Information System are integrated into the reflectors while the Lincoln star sits proudly on a new appliqué. The 4-inch oval exhaust tips, significantly larger on the 2011 Lincoln MKX, also increase the unique luxury crossover's presence.
The new 18- and 20-inch wheels are more dynamic and expressive. Instead of a familiar linear or blocky appearance, the wheels encompass a variety of undulating and complex shapes that help the 2011 Lincoln MKX appear always in motion. The vibrant wheel shapes again underscore the enhanced craftsmanship and attention to detail found throughout the 2011 Lincoln MKX.
See also:
Setting adaptive cruise control
Note: It is the driver's responsibility to stay alert, drive safely and be in control of the vehicle at all times. The controls for using your cruise control are located on the steering whe ...
Vehicle loading
This section will guide you in the proper loading of your vehicle to keep your loaded vehicle weight within its design rating capability. Properly loading your vehicle will provide maximum return ...
Checking automatic transmission fluid at cool temperature (59°F-77°F [15°C-25°C])
If a fluid check is necessary at a low fluid temperature (59°F-77°F [15°C-25°C]), perform the check using the cold range on the dipstick. However, the fluid must be re-checked at the proper ...