Choosing the right fuel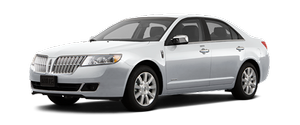 Use only UNLEADED fuel or UNLEADED fuel blended with a maximum of 10% ethanol. Do not use fuel ethanol (E85), diesel, methanol, leaded fuel or any other fuel. The use of leaded fuel is prohibited by law and could damage your vehicle.
Your vehicle was not designed to use fuel or fuel additives with metallic compounds, including manganese-based additives.
Note: Use of any fuel other than those recommended may cause powertrain damage, a loss of vehicle performance, and repairs may not be covered under warranty.
See also:
Positive retention floor mat
WARNING: Always use floor mats that are designed to fit the foot well of your vehicle. Only use floor mats that leave the pedal area unobstructed. Only use floor mats that are firmly secu ...
Disengaging adaptive cruise control
Press the brake pedal or press CNCL to disengage the adaptive cruise control. The last set speed will be displayed with a strikethrough. Disengaging the adaptive cruise control will not erase you ...
Bounce-back
When an obstacle has been detected in the window opening as the window is moving upward, the window will automatically reverse direction and move down. This is known as "bounce-back". If the ignit ...