Changing the tires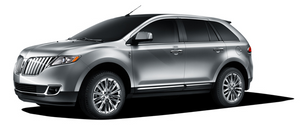 If you get a flat tire while driving, do not apply the brake heavily.
Instead, gradually decrease your speed. Hold the steering wheel firmly and slowly move to a safe place on the side of the road.
Note: The tire pressure monitoring system (TPMS) indicator light will illuminate when the spare tire is in use. To restore the full functionality of the monitoring system, all road wheels equipped with tire pressure monitoring sensors must be mounted on the vehicle.
Have a flat serviced by an authorized dealer in order to prevent damage to the TPMS sensors, refer to Tire pressure monitoring system (TPMS) in the Tires, Wheels and Loading chapter. Replace the spare tire with a road tire as soon as possible. During repairing or replacing of the flat tire, have the authorized dealer inspect the TPMS sensor for damage.
WARNING: The use of tire sealants may damage your tire pressure monitoring system (TPMS) and should not be used.
However, if you must use a sealant, the TPMS sensor and valve stem on the wheel must be replaced by an authorized Ford dealer.
WARNING: Refer to Tire pressure monitoring system (TPMS) in the Tires, Wheels and Loading chapter for important information. If the tire pressure monitor sensor becomes damaged, it will no longer function.
See also:
ABS warning lamp
The ABS lamp in the instrument cluster momentarily illuminates when the ignition is turned on. If the light does not illuminate during start up, remains on or flashes, the ABS may be disab ...
Lamp assembly condensation
Exterior lamps are vented to accommodate normal changes in pressure. Condensation can be a natural by-product of this design. When moist air enters the lamp assembly through the vents, there is a ...
Driving Impressions
Lincoln has made some significant improvements in the Navigator's driving experience, just asFord has moved ahead with the 2003 Expedition, which is a close relative to Lincoln's SUV. The Navigato ...