Compass calibration adjustment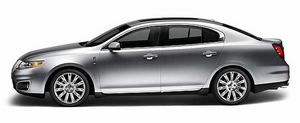 and high voltage lines. For optimum calibration, turn off all electrical accessories (heater/air conditioning, wipers, etc.) and make sure all vehicle doors are shut.

1. Start the vehicle.
2. To calibrate, press and hold the 7 and 9 radio preset buttons together for approximately 10 seconds until CAL appears. Release the buttons.

3. Slowly drive the vehicle in a circle (less than 3 mph [5 km/h]) until the CAL display changes to the direction value (N, S, E, W, etc.). It may take up to five circles to complete calibration.
4. The compass is now calibrated.
See also:
Aluminum wheels and wheel covers
Aluminum wheels and wheel covers are coated with a clear coat paint finish. In order to maintain their shine: • Clean weekly with Motorcraft Wheel and Tire Cleaner, which is available from your a ...
Engine shield
Some vehicles may be equipped with an aero-shield under the engine. This shield needs to be removed for service, including oil and filter changes. It is secured with four quick release fastener ...
Window lock
The window lock feature allows only the driver to operate the power windows. To lock out all the window controls (except for the driver's) press the right side of the control. Press the l ...