Compass calibration adjustment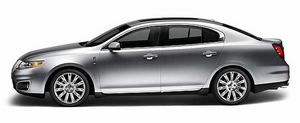 and high voltage lines. For optimum calibration, turn off all electrical accessories (heater/air conditioning, wipers, etc.) and make sure all vehicle doors are shut.

1. Start the vehicle.
2. To calibrate, press and hold the 7 and 9 radio preset buttons together for approximately 10 seconds until CAL appears. Release the buttons.

3. Slowly drive the vehicle in a circle (less than 3 mph [5 km/h]) until the CAL display changes to the direction value (N, S, E, W, etc.). It may take up to five circles to complete calibration.
4. The compass is now calibrated.
See also:
Toothy Grille
The MKZ's styling is starting to grow on me. The front end is distinctive. It gets a new tooth-like grille for 2010, which bears a closer resemblance to models like Lincoln's MKS full-size sedan a ...
ACC not available
Several conditions exist which can cause ACC to deactivate or prevent ACC from activating when requested. These conditions include: • The sensor is blocked, refer to Blocked sensor in this sectio ...
Auto high beams
During nighttime driving, the automatic high beam system automatically turns on your high beams if it is dark enough and no other traffic is present. When it detects an approaching vehicle's headl ...