Setting speed control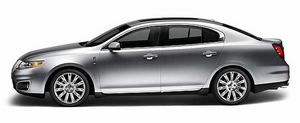 To set speed control:
1. Press and release ON.
2. Accelerate to the desired speed.
3. Press and release SET + or SET -.
4. Take your foot off the accelerator pedal.
5. The indicator

light on the instrument cluster will turn on.
Note:
• Vehicle speed may vary momentarily when driving up and down a steep hill.
• If the vehicle speed increases above the set speed on a downhill, you may want to apply the brakes to reduce the speed.
• If the vehicle speed decreases more than 10 mph (16 km/h) below your set speed on an uphill, your speed control will disengage.
See also:
Understanding your SelectShift Automatic™ transmission (SST) gearshift lever
This vehicle is equipped with a SelectShift Automatic™ transmission (SST) gearshift lever. SST is an automatic transmission with the ability for the driver to change gears up or down (witho ...
Vehicle identification number (VIN)
The vehicle identification number is located on the driver side instrument panel. Please note that in the graphic, XXXX is representative of your vehicle identification number. The Vehic ...
Important Ventilating Information
If you stop your vehicle and leave the engine idling for long periods of time, we recommend that you do one of the following: • Open the windows at least one inch (2.5 cm). • Set your climate cont ...