Restraint of pregnant women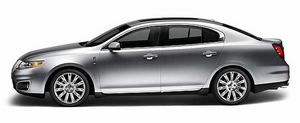 WARNING: Always ride and drive with your seatback upright and the safety belt properly fastened. The lap portion of the safety belt should fit snug and be positioned low across the hips. The shoulder portion of the safety belt should be positioned across the chest. Pregnant women should also follow this practice. See figure below.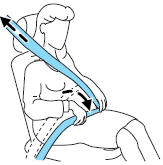 Pregnant women should always wear their safety belt. The lap belt portion of a combination lap and shoulder belt should be positioned low across the hips below the belly and worn as tight as comfort will allow. The shoulder belt should be positioned to cross the middle of the shoulder and the center of the chest.
See also:
Understanding your SelectShift Automatic™ Transmission (SST)
This vehicle is equipped with a SelectShift Automatic™ transmission (SST) gearshift lever. SST is an automatic transmission with the ability for the driver to change gears up or down (witho ...
BLIS -CTA on/off and disable operation
The BLIS and/or the CTA can be turned off via the message center. Turning the BLIS off does not turn off the CTA and vice-versa. If either the BLIS or CTA is turned off, the systems will automatica ...
Safety belt locking modes
All safety restraints in the vehicle are combination lap and shoulder belts. The driver safety belt has the first locking mode and the front outboard passenger and rear seat safety belts have both ...