Restraint of pregnant women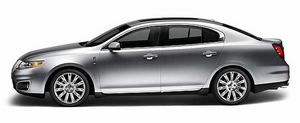 WARNING: Always ride and drive with your seatback upright and the safety belt properly fastened. The lap portion of the safety belt should fit snug and be positioned low across the hips. The shoulder portion of the safety belt should be positioned across the chest. Pregnant women should also follow this practice. See figure below.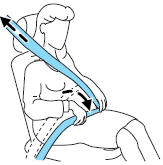 Pregnant women should always wear their safety belt. The lap belt portion of a combination lap and shoulder belt should be positioned low across the hips below the belly and worn as tight as comfort will allow. The shoulder belt should be positioned to cross the middle of the shoulder and the center of the chest.
See also:
Wheel lug nut torque specifications
Retighten the lug nuts to the specified torque within 100 miles (160 km) after any wheel disturbance (rotation, flat tire, wheel removal, etc.). WARNING: When a wheel is installed, always remove ...
How to use the engine block heater
Ensure the receptacle terminals are clean and dry prior to use. To clean them, use a dry cloth. Depending on the type of factory installed equipment, your engine block heater will use .4 to 1.0 k ...
Removing the jumper cables
Remove the jumper cables in the reverse order that they were connected. Note: In the illustration, the vehicle on the bottom is used to designate the assisting (boosting) battery. 1. Remove th ...