Restraint of pregnant women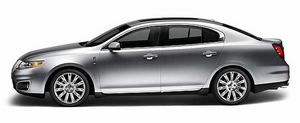 WARNING: Always ride and drive with your seatback upright and the safety belt properly fastened. The lap portion of the safety belt should fit snug and be positioned low across the hips. The shoulder portion of the safety belt should be positioned across the chest. Pregnant women should also follow this practice. See figure below.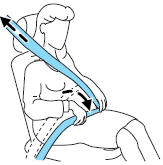 Pregnant women should always wear their safety belt. The lap belt portion of a combination lap and shoulder belt should be positioned low across the hips below the belly and worn as tight as comfort will allow. The shoulder belt should be positioned to cross the middle of the shoulder and the center of the chest.
See also:
Emergency maneuvers
• In an unavoidable emergency situation where a sudden sharp turn must be made, remember to avoid "over-driving" your vehicle (i.e., turn the steering wheel only as rapidly and as far as required ...
Vehicle Overview
Lincoln has redesigned its full-size sport utility vehicle for 2003, moving it away from its pickup-truck origins and turning it into a purpose-built SUV. Chassis changes promise a different sort ...
Checking automatic transmission fluid
Refer to your scheduled maintenance information for scheduled intervals for fluid checks and changes. Your transmission does not consume fluid. However, the fluid level should be checked if the ...