Belt-Minder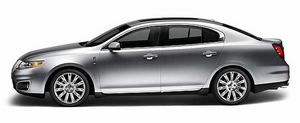 The Belt-Minder feature is a supplemental warning to the safety belt warning function. This feature provides additional reminders by intermittently sounding a chime and illuminating the safety belt warning light in the instrument cluster when the driver's and front passenger's safety belt is unbuckled.
The Belt-Minder feature uses information from the front passenger sensing system to determine if a front seat passenger is present and therefore potentially in need of a warning. To avoid activating the Belt-Minder feature for objects placed in the front passenger seat, warnings will only be given to large front seat occupants as determined by the front passenger sensing system.
Both the driver's and passenger's safety belt usages are monitored and either may activate the Belt-Minder feature. The warnings are the same for the driver and the front passenger. If the Belt-Minder warnings have expired (warnings for approximately five minutes) for one occupant (driver or front passenger), the other occupant can still activate the Belt-Minder feature.
When the Belt-Minder feature is activated, the safety belt warning light illuminates and the warning chime sounds for six seconds every 30 seconds, repeating for approximately five minutes or until the safety belts are buckled.
The Belt-Minder feature uses two different warning chimes. During the first minute of activation, the warning chime will sound once every second. The remaining warning chimes will sound twice every second while the system is activated.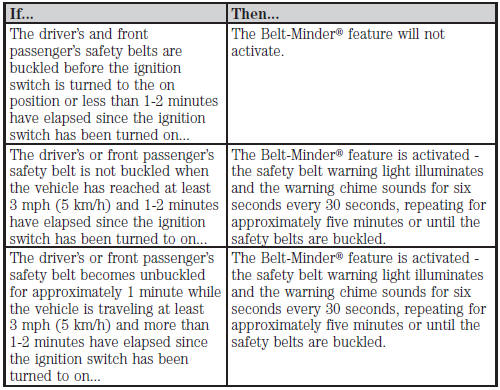 The following are reasons most often given for not wearing safety belts (All statistics based on U.S. data):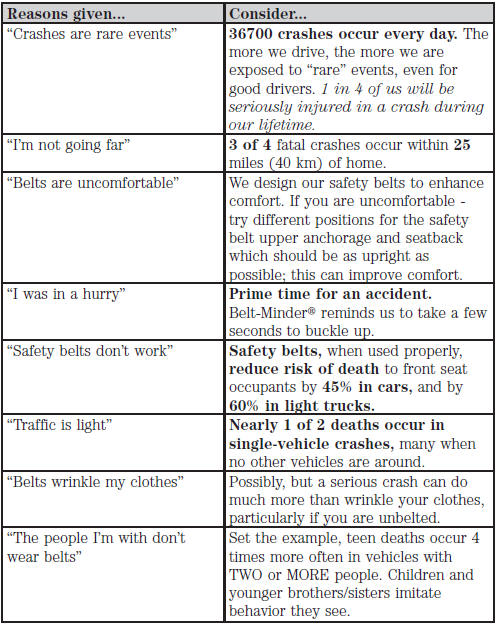 WARNING: Do not sit on top of a buckled safety belt or insert a latchplate into the buckle to avoid the Belt-Minder chime. To do so may adversely affect the performance of the vehicle's airbag system.
See also:
ACC Not Available
Several conditions exist which can cause ACC to deactivate or prevent ACC from activating when requested. These conditions include: • The sensor is blocked, refer to Blocked sensor in this sectio ...
All-wheel drive (awd) system (if equipped)
Your vehicle may be equipped with a full-time all-wheel drive (AWD) system. The AWD system is an active system, meaning it not only responds to wheel slip between the front and rear axles but also ...
Snow tires and chains
WARNING: Snow tires must be the same size, load index, speed rating as those originally provided by Ford. Use of any tire or wheel not recommended by Ford can affect the safety and performance o ...