Filling the tank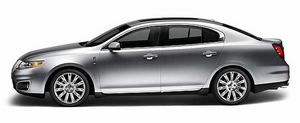 The advertised fuel capacity of the fuel tank on your vehicle is equal to the rated refill capacity of the fuel tank as listed in the Maintenance product specifications and capacities section of this chapter.
The advertised capacity is the amount of the indicated capacity and the empty reserve combined. Indicated capacity is the difference in the amount of fuel in a full tank and a tank when the fuel gauge indicates empty. Empty reserve is the small amount of fuel remaining in the fuel tank after the fuel gauge indicates empty.
The amount of usable fuel in the empty reserve varies and should not be relied upon to increase driving range. When refueling your vehicle after the fuel gauge indicates empty, you might not be able to refuel the full amount of the advertised capacity of the fuel tank due to the empty reserve still present in the tank.
For consistent results when filling the fuel tank:
• Turn the engine/ignition switch off prior to refueling, an error in the reading will result if the engine is left running.
• Use the same filling rate setting (low — medium — high) each time the tank is filled.
• Allow no more than two automatic click-offs when filling.
• Always use fuel with the recommended octane rating.
• Use a known quality gasoline, preferably a national brand.
• Have the vehicle loading and distribution the same every time.
Your results will be most accurate if your filling method is consistent.
See also:
The Inside
The MKX's cabin is mostly an asset, but a couple of aspects hold it back. I found it pretty easy to get into the seats, which provide a nice ride height without requiring a grappling hook — or ste ...
Important child restraint precautions
WARNING: Always make sure your child is secured properly in a device that is appropriate for their height, age and weight. Child safety restraints must be purchased separately from the vehicle. ...
Intelligent Oil Life Monitor™
Your vehicle is equipped with an Intelligent Oil Life Monitor™ that determines when the engine oil should be changed based on how your vehicles is used. By using several important factors in its c ...