Cargo & Towing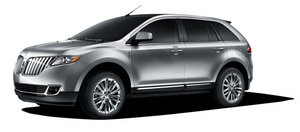 The MKX's car-based construction again shows its benefit in cargo volume; body-on-frame trucks tend to have less for an equivalent exterior size. My MKX had a power liftgate, which comes in an option package. Its peculiar mechanism employs a strut that ps from the side of the cargo area to the liftgate ... as if it were retrofitted rather than designed into the car originally. In practice it probably won't pose an obstruction, but it's a different approach. Also different is the button location Ч on the strut's pod about waist high rather than on the raised liftgate. It may be easier for shorter folks to reach here. Or it may be easier for you to get brained by a closing liftgate. Let me know how that works out.
Raising the floor revealed an optional cargo management system Ч basically a tray that makes use of the space surrounding the compact spare tire. It's nice to have this covered area, no matter how weird the shape, but it's only a few inches deep, and it doesn't excuse the lack of a cargo cover for the overall area Ч a huge oversight.
The folding seats couldn't be simpler to use. Pull the levers and down they go; no need to flip cushions or remove head restraints. The optional Rear Easy Fold power-folding feature releases either side of the seat by means of a button near the liftgate, allowing it to spring forward and flat. It saves you a trip to the side door because the backrests are too far to reach from the rear bumper. Unfortunately it doesn't raise them, and it comes in one of two costly option packages.
One disadvantage to the front-drive platform (even if equipped with AWD) is decreased towing capacity compared to SUVs based on rear-wheel-drive platforms. The MKX's maximum trailer weight is 3,500 pounds with the trailer tow package. Given the way most people use SUVs, and especially luxury ones, that's no great loss.
See also:
Attaching child safety seats with tether straps
Many forward-facing child safety seats include a tether strap which extends from the back of the child safety seat and hooks to an anchoring point called the top tether anchor. Tether straps are a ...
Detection issues
The radar sensor has a limited field of vision. In some situations it may not detect vehicles at all or detect a vehicle later than expected. Detection issues can occur: Х When driving on a di ...
Traction control system (TCS)
Traction control is a driver aid feature that helps your vehicle maintain traction of the wheels, typically when driving on slippery and/or hilly road surfaces, by detecting and controlling wheel ...