Create a MyKey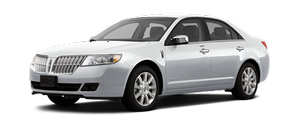 To program MyKey on one of the keys programmed to the vehicle, insert the key that you want to make a MyKey into the ignition. For vehicles equipped with push button start, put the intelligent access key in the backup slot; see the Driving chapter for the location of the backup slot. Turn the ignition on. Use the message center buttons to do the following:
1. Press SETUP until PRESS RESET TO CREATE MYKEY is displayed.
2. Press and release the RESET button. HOLD RESET TO CONFIRM MYKEY will be displayed.
3. Press and hold the RESET button for two seconds until MARK THIS AS RESTRICTED is displayed.
4. Wait until KEY RESTRICTED AT NEXT START is displayed.
MyKey is successfully programmed. Make sure you label it so you can distinguish it from the admin keys. Note: To program the optional settings go to Step 2 in the Programming MyKey Optional Settings section. If your vehicle is equipped with remote start, see the Using MyKey with Remote Start Systems section.
Note: The MyKey can be cleared within the same key cycle that it was created, otherwise a standard key (administrator key) is required to clear the MyKey programming. To clear all MyKeys go to Step 2 in the Clear MyKey section.
See also:
Mud and water
If you must drive through high water, drive slowly. Traction or brake capability may be limited. When driving through water, determine the depth; avoid water higher than the bottom of the wheel r ...
Additional information contained on the tire sidewall for УLTФ typetires
УLTФ type tires have some additional information beyond those of УPФ type tires; these differences are described below. Note: Tire Quality Grades do not apply to this type of tire. 1. LT ...
Traction AA A B C
WARNING: The traction grade assigned to this tire is based on straight-ahead braking traction tests, and does not include acceleration, cornering, hydroplaning or peak traction characteristics. T ...