Interior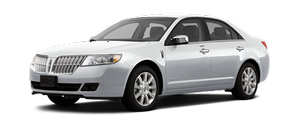 Lincoln has taken a leap forward inside the MKS. My test vehicle was decked out in thick, off-white leather that was wrapped around the seats and doors. It's of decent quality, about on par with what you find in Volvo and Lexus cars. I found the front seats extremely comfortable, and it was easy enough to find a good seating position. The backseat is also spacious, as you'd expect from something in this class. Heated and air-conditioned front seats are also standard. Unlike other brands with the feature, these A/C seats really do the job.
The leather- and wood-trimmed dashboard was respectable, but didn't look or feel as luxurious as the seats. The same could be said of the gauges and center controls, which looked like they were from a lower grade of vehicle — namely a Ford.
While they were decent-quality, none of the controls you interact with had the feeling of luxury that a car in this price range should have. This is what separates Lincoln from a Volvo S80, which has similar pricing. While Volvo has gorgeous metal gauges and a unique center swath of controls, the MKS adds a bit of chrome-like film to its plastic buttons, and that's about it.
Luckily, this downside isn't a big enough one to completely ruin the MKS. If you can look beyond it to the car's state-of-the-art control screen and the voice-activated technology hidden behind the scenes, the interior will prove to be a winner.
See also:
Service Data Recording
Service data recorders in your vehicle are capable of collecting and storing diagnostic information about your vehicle. This potentially includes information about the performance or status of var ...
EXTERIOR
The MKT is one of those controversial cars that invites strangers to approach you in some random parking lot and say "That car is weird; what is it?" I concede that it's strange-looking ...
Important child restraint precautions
WARNING: Always make sure your child is secured properly in a device that is appropriate for their height, age and weight. Child safety restraints must be purchased separately from the vehicle. ...