MKS in the Market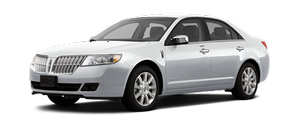 In July Ч the MKS' first month of sales Ч it outsold every other Lincoln on the market, including the more affordable MKZ sedan and the MKX crossover. Sales were four times that of the S80. I'm an unabashed fan of the oft-overlooked S80; it is one of the few models on the market that offers similar features, space, level of luxury, performance and price as the MKS.
That's partly because this segment isn't a well-traveled one any longer. Cadillac's STS and DTS are fading quickly Ч the MKS also outsold both of those models in July Ч and haven't been updated enough to compete with these two newer models. Plus, both the MKS and S80 cost less. Japanese brands like Lexus and Infiniti have tried to emulate German luxury sedans with rear-wheel-drive models in this class, so there is a gap in the market that the MKS fills.
Where the Lincoln excels and the S80 fails is in the looks department. There is no question that the MKS makes a statement, even if its looks aren't universally appealing. Personally, I found it to be quite striking during my week of testing, and it should definitely drop the average age of Lincoln sedan shoppers by a few years, if not a generation. The S80, on the other hand, can easily be lost in a crowd; if you don't notice it at first glance, you'll never make it behind the wheel to see how good it truly is.
Lincoln owes a lot to the S80, but the company should be proud of how distinctive its new sedan truly is.
See also:
Checking engine coolant
The concentration and level of engine coolant should be checked at the intervals listed in scheduled maintenance information. The coolant concentration should be maintained at 50/50 coolant and di ...
How does the side airbag system work?
The design and development of the side airbag system included recommended testing procedures that were developed by a group of automotive safety experts known as the Side Airbag Technical Working ...
Optional settings Ц these settings can be changed
Х Vehicle speed is limited to 80 mph (130 km/h). Visual warnings are displayed followed by a chime when the vehicle speed has reached 80 mph (130 km/h). Х Visual warnings are displayed followed b ...