Powertrain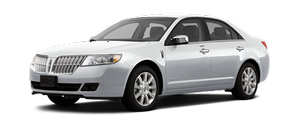 The standard engine for 2013 is a more powerful and efficient 3.7-liter V6 that now includes twin independent variable camshaft timing (Ti-VCT). The ability to vary camshaft timing to optimize the opening and closing of both the intake and exhaust valves increases the engine's responsiveness and efficiency.
Horsepower for 2013 increases to a projected 300 from 273 - up 9 percent. Torque improves to 275 lb.-ft. at 4,000 rpm from 270 lb.-ft. At the same time, projected fuel economy increases for the 3.7-liter-equipped sedan - a 3-mpg improvement on the highway versus today's Lincoln MKS. The 3.7-liter delivers an estimated 19 mpg city/28 mpg highwayfor the front-wheel drive modeland18/26 mpg with the all-wheel-drive model.
The Lincoln MKS now offers better standard highway mileage than the 2012 Acura RL, Cadillac STS and Mercedes-Benz E350. Additionally, the Lincoln engine produces its power using regular unleaded fuel, not premium as required by some manufacturers, including Audi, BMW and Mercedes-Benz.
Specific accessory technologies were added to the 3.7-liter V6 to improve fuel economy performance and efficiency. Active Grille Shutters open and close depending on engine cooling needs. When fully closed, the shutters help reduce aerodynamic drag by 6 percent, improving highway fuel economy. A tuned dual-exhaust system enhances low-end torque. Smart Battery Management also contributes to improved economy by prioritizing the recharging of the vehicle's battery at optimum times, such as when the vehicle is coasting.
3.5-liter EcoBoost V6
The premium engine for 2013 remains the twin-turbo 3.5-liter EcoBoostЃ V6, an engine that provides V8 performance with the fuel economy of a V6. The EcoBoost V6 earned a place on Ward's 2010 "10 Best Engines" list the year it was introduced.
The 3.5-liter gasoline turbo direct-injected (GTDI) engine produces a projected 355 horsepower at 5,700 rpm and an expansive torque curve that plateaus at 350 lb.-ft. of torque from 1,500 to 5,250 rpm. Fuel economy of the EcoBoost/all-wheel-drive powertrain is projected to be 17 mpg city and 25 mpg highway.
The optional EcoBoost V6 is the most powerful V6 among MKS competitors, producing 45 more horsepower than the Audi A6's optional supercharged 3.0-liter V6 and 55 more horsepower than the BMW 5-Series' optional turbocharged 3.0-liter I-6.
"The engine combinations for the 2013 Lincoln MKS deliver an unbeatable combination of more refined power and enhanced fuel economy," said Greg Johnson, Lincoln powertrain manager. "The 2013 Lincoln MKS has been engineered to deliver performance feel that's smooth, effortless and confident."
See also:
Detection issues
The radar sensor has a limited field of vision. In some situations it may not detect vehicles at all or detect a vehicle later than expected. Detection issues can occur: Х When driving on a di ...
Reducing speed while using speed control
To reduce a set speed: Х Press and hold SET Ц until you get to the desired speed, then release. You can also use SET Ц to operate the tap-down function. Press and release SET Ц to decrease the veh ...
Transporting children
Always make sure your child is secured properly in a device that is appropriate for their age, height and weight. All children are shaped differently. The child height, age and weight thresholds p ...