EXTERIOR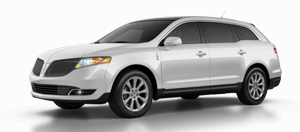 The MKT is one of those controversial cars that invites strangers to approach you in some random parking lot and say "That car is weird; what is it?" I concede that it's strange-looking and I attribute it to its big rear end. The back significantly hangs out over the rear wheels. It's also not tall like an SUV, but it's not as short as a wagon or sedan. This makes it easy for kids to get in and out of the MKT, but it ends up looking kind of like a hearse from the back.
See also:
Choosing the right fuel
Use only UNLEADED fuel or UNLEADED fuel blended with a maximum of 10% ethanol. Do not use fuel ethanol (E85), diesel, methanol, leaded fuel or any other fuel. The use of leaded fuel is prohibited ...
Autounlock feature (if enabled)
The autounlock feature will unlock all the doors when: • the ignition is on, all the doors are closed, and the vehicle has been in motion at a speed greater than 12 mph (20 km/h); • the vehicle ...
Low speed automatic cancellation
ACC is not functional at vehicle speeds below 16 mph (26 km/h). Once the vehicle speed drops below 16 mph (26 km/h), an audible alarm will sound and the automatic braking will be released. ...