Vehicle Overview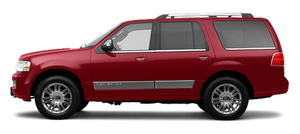 Lincoln has redesigned its full-size sport utility vehicle for 2003, moving it away from its pickup-truck origins and turning it into a purpose-built SUV. Chassis changes promise a different sort of driving experience — less of a trucklike ride than in the previousNavigator, which debuted as a 1998 model. With a solid rear axle and torsion bars, the old chassis could not help but yield trucklike ride and handling qualities. The new model features a four-wheel-independent suspension, and a revised rear frame height allows the third-row seat to be lowered substantially.
The new rack-and-pinion steering promises to eliminate the previously ambiguous on-center feel for better control and handling. Lincoln says the new Navigator's cornering effort is improved, and brake pedal travel has been modified to produce a shorter dead spot. Developers also sought to improve interior quietness as part of their quest for added refinement.
New luxury and convenience features are part of the redesign. Power-extendable running boards — available on the top model — are touted by the manufacturer as an industry first, along with the optional, powered, third-row seat that folds into the floor. In fact, the 2003 Navigator offers several exclusive power features that are not available on Lincoln's new, smaller Aviator SUV. Two-wheel-drive (2WD) and four-wheel-drive (4WD) Navigators will be offered in Luxury, Premium and Ultimate trim levels.
Lincoln has a singular vision, says Mike Renucci, the company's engineering director. The goal is "to become one of the top luxury automotive brands, on a global basis, [by initiating a] high degree of consistency" among the models. He says another objective is to "develop Lincoln's own version of the addictive driving experience." Although Navigator sales fell 16 percent in 2001, with 31,759 units going to U.S. customers, the SUV has been a reasonably strong seller for Lincoln, according to Automotive News.
See also:
Battery
Your vehicle is equipped with a Motorcraft maintenance-free battery which normally does not require additional water during its life of service. If your battery has a cover/shield, make sur ...
When Your Temporary Spare Tire Is Installed
When one of your road tires needs to be replaced with the temporary spare, the TPMS will continue to identify an issue to remind you that the damaged road wheel/tire needs to be repaired and put b ...
How to use the automatic locking mode
1. Buckle the combination lap and shoulder belt. 2. Grasp the shoulder portion and pull downward until the entire belt is pulled out. • Allow the belt to retract. As the belt retracts, you ...