Driving Impressions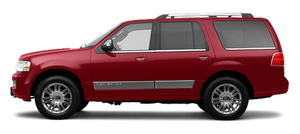 Lincoln has made some significant improvements in the Navigator's driving experience, just asFord has moved ahead with the 2003 Expedition, which is a close relative to Lincoln's SUV. The Navigator's ride is pleasantly satisfying overall, and the suspension responds quickly to bumps without overreacting. This SUV does a fine job of keeping its tires on the pavement.
The 2003 Navigator's handling is unquestionably more refined than its predecessor's, but a short run with the previous model demonstrated — on the highway, at least — that it wasn't a bad vehicle at all. The revised model performs capably on twisting two-lane roads, but it's still a tad unsure of itself at times. It's not seriously carlike in personality, which could be a good thing, because making an SUV too carlike might detract from its other virtues.
Although the automatic transmission reacts easily most of the time, multiple downshifts when the gas pedal is pushed hard can be jarring. The Navigator's braking is linear and effective.
One Navigator's engine proved to be noisier than expected — even during moderate acceleration — but two other test models driven later in the day were pleasantly quiet. A clapping sound was noticeable when rolling over pavement separators.
The Navigator is still a big SUV, but even on narrow roads, it doesn't feel horribly bulky. Construction quality appears to be excellent, with no rough edges or other evident defects. The automatic-extending running boards are handy and wide enough to be useful, but their surfaces are a little slick. Electroluminescent gauges are helpful, but some drivers may want them on the brightest setting for the best visibility. The seats are excellent; the passenger seat, in particular, felt almost form fitting, with just the right cushioning.
See also:
Multi-point Inspection
In order to keep your vehicle running right, it is important to have the systems on your vehicle checked regularly. This can help identify potential issues and prevent major problems. Ford Motor C ...
Cooled seats
The cooled seats will only function when the engine is running. To operate the cooled seats: Press once to activate the high cool setting (three indicator lights). Continue pressing to scroll throu ...
Setting the gap distance
The distance between your vehicle and the vehicle in front of you can be decreased or increased by pressing <---> control. GAP <---> will be displayed in the message center. Thre ...