Congratulations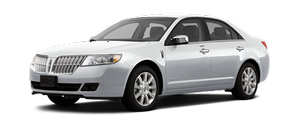 Congratulations on acquiring your new Lincoln. Please take the time to get well acquainted with your vehicle by reading this handbook. The more you know and understand about your vehicle, the greater the safety and pleasure you will derive from driving it.
For more information on Ford Motor Company and its products visit the following website:
• In the United States: www.ford.com
• In Canada: www.ford.ca
• In Mexico: www.ford.com.mx
• In Australia: www.ford.com.au
Additional owner information is given in separate publications.
This Owner's Guide describes every option and model variant available and therefore some of the items covered may not apply to your particular vehicle. Furthermore, due to printing cycles it may describe options before they are generally available.
Remember to pass on the Owner's Guide when reselling the vehicle. It is an integral part of the vehicle.
WARNING: Fuel pump shut-off: In the event of an accident this feature will automatically cut off the fuel supply to the engine. It can also be activated through sudden vibration (e.g. collision when parking). To restart your vehicle, refer to Fuel pump shut-off in the Roadside Emergencies chapter.
See also:
Front safety belt energy management retractors
The front outboard safety belt energy management retractors allow webbing to be pulled out of the retractor in a gradual and controlled manner in response to the occupant's forward momentum. This ...
Event Data Recording
This vehicle is equipped with an event data recorder (EDR). The main purpose of an EDR is to record, in certain crash or near crash-like situations, such as an airbag deployment or hitting a roa ...
Information on "P" type tires
P215/65R15 95H is an example of a tire size, load index and speed rating. The definitions of these items are listed below. (Note that the tire size, load index and speed rating for your ve ...