Sample MP3 structure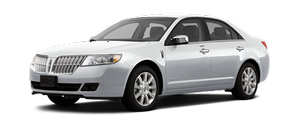 If you are burning your own MP3 discs, it is important to understand how the system will read the structures you create. While various files may be present, (files with extensions other than mp3), only files with the .mp3 extension will be played. Other files will be ignored by the system. This enables you to use the same MP3 disc for a variety of tasks on your work computer, home computer and your in-vehicle system.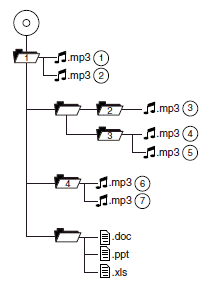 In track mode, the system will display and play the structure as if it were only one level deep (all .mp3 files will be played, regardless of being in a specific folder). In folder mode, the system will only play the .mp3 files in the current folder.
See also:
Vehicle loading
This section will guide you in the proper loading of your vehicle to keep your loaded vehicle weight within its design rating capability. Properly loading your vehicle will provide maximum return ...
Combining safety belt and LATCH lower anchors for attaching child safety seats
When used in combination, either the safety belt or the LATCH lower anchors may be attached first, provided a proper installation is achieved. Attach the tether strap afterward, if included with th ...
Heated seats
WARNING: Persons who are unable to feel pain to the skin because of advanced age, chronic illness, diabetes, spinal cord injury, medication, alcohol use, exhaustion, or other physical conditions ...