Sample MP3 structure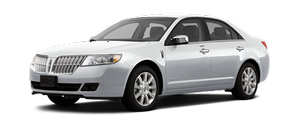 If you are burning your own MP3 discs, it is important to understand how the system will read the structures you create. While various files may be present, (files with extensions other than mp3), only files with the .mp3 extension will be played. Other files will be ignored by the system. This enables you to use the same MP3 disc for a variety of tasks on your work computer, home computer and your in-vehicle system.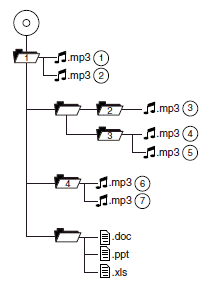 In track mode, the system will display and play the structure as if it were only one level deep (all .mp3 files will be played, regardless of being in a specific folder). In folder mode, the system will only play the .mp3 files in the current folder.
See also:
Memory feature (if equipped)
This system allows automatic positioning of the driver seat, power mirrors and power tilt/telescopic steering column (if equipped) to two programmable positions. The memory seat control is ...
Special instructions
For your added safety, your vehicle is fitted with sophisticated electronic controls. WARNING: Please read the section Airbag Supplemental Restraint System (SRS) in the Seating and Safety Restrai ...
Aluminum wheels and wheel covers
Aluminum wheels and wheel covers are coated with a clear coat paint finish. In order to maintain their shine: • Clean weekly with Motorcraft Wheel and Tire Cleaner, which is available from your ...