Sample MP3 structure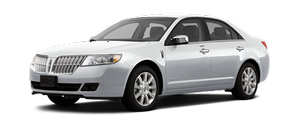 If you are burning your own MP3 discs, it is important to understand how the system will read the structures you create. While various files may be present, (files with extensions other than mp3), only files with the .mp3 extension will be played. Other files will be ignored by the system. This enables you to use the same MP3 disc for a variety of tasks on your work computer, home computer and your in-vehicle system.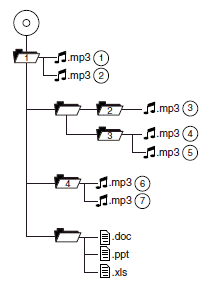 In track mode, the system will display and play the structure as if it were only one level deep (all .mp3 files will be played, regardless of being in a specific folder). In folder mode, the system will only play the .mp3 files in the current folder.
See also:
Retractable Panoramic Roof
The Retractable Panoramic Roof is a new signature feature for Lincoln. The 15.2-square-foot glass panel offers one of the largest openings available on any current sedan. The design maintains the ...
Replacing supplemental park bulbs
1. Make sure the headlamp switch is in the off position, then open the hood. 2. At the wheel well, remove the press pins from the splash shield, then pull the splash shield back to gain a ...
Dissimilar spare tire/wheel information
WARNING: Failure to follow these guidelines could result in an increased risk of loss of vehicle control, injury or death. If you have a dissimilar spare tire/wheel, then it is intended for tempo ...