Sample MP3 structure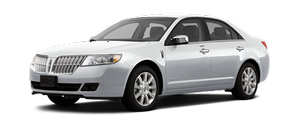 If you are burning your own MP3 discs, it is important to understand how the system will read the structures you create. While various files may be present, (files with extensions other than mp3), only files with the .mp3 extension will be played. Other files will be ignored by the system. This enables you to use the same MP3 disc for a variety of tasks on your work computer, home computer and your in-vehicle system.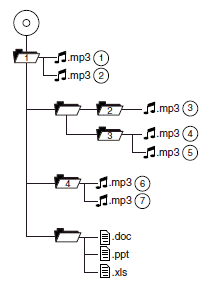 In track mode, the system will display and play the structure as if it were only one level deep (all .mp3 files will be played, regardless of being in a specific folder). In folder mode, the system will only play the .mp3 files in the current folder.
See also:
One-touch up or down (all windows)
This feature allows the windows to open or close fully without holding the control down. To operate one-touch down, press the switch completely down to the second detent and release quickly. Th ...
Setting speed control
To set speed control: 1. Press and release ON. 2. Accelerate to the desired speed. 3. Press and release SET + or SET -. 4. Take your foot off the accelerator pedal. 5. The indicator light ...
Sand
When driving over sand, try to keep all four wheels on the most solid area of the trail. Avoid reducing the tire pressures but shift to a lower gear and drive steadily through the terrain. Apply t ...