General audio information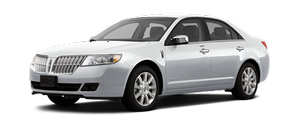 Radio frequencies:
AM and FM frequencies are established by the Federal Communications
Commission (FCC) and the Canadian Radio and Telecommunications
Commission (CRTC). Those frequencies are:
AM: 530, 540Ц1700, 1710 kHz
FM: 87.7, 87.9Ц107.7, 107.9 MHz
Radio reception factors:
There are three factors that can affect radio reception:
Х Distance/strength: The further you travel from an FM station, the weaker the signal and the weaker the reception.
Х Terrain: Hills, mountains, tall buildings, power lines, electric fences, traffic lights and thunderstorms can interfere with your reception.
Х Station overload: When you pass a broadcast tower, a stronger signal may overtake a weaker one and play while the weak station frequency is displayed.
See also:
Genuine Ford parts and service
When planning your maintenance services, consider your dealership for all your vehicleТs needs. There are a lot of reasons why visiting your dealership for all your service needs is a great way ...
Protecting your investment
Maintenance is an investment that will pay dividends in the form of improved reliability, durability and resale value. To ensure the proper performance of your vehicle and its emission control sys ...
Trailer towing tips
Х Practice turning, stopping and backing-up before starting on a trip to get the feel of the vehicle-trailer combination. When turning, make wider turns so the trailer wheels will clear curbs and ...