Blocked sensor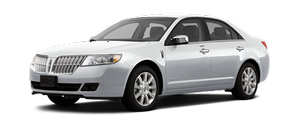 If a message regarding a blocked sensor is displayed, the radar signals from the sensor have been obstructed. The sensor is located behind a fascia cover near the driver side of the lower grille. When the radar signals are obstructed, a vehicle ahead cannot be detected and the ACC will not function. The following table lists possible causes and actions for this message being displayed.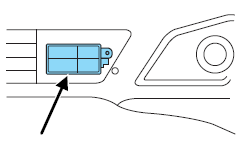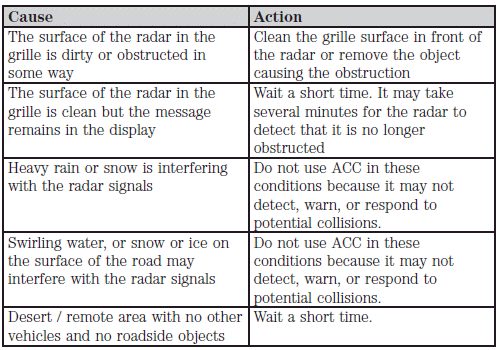 Due to the nature of radar technology, it is possible to get a blockage warning and not be blocked. This can happen, for example, when driving in sparse rural or desert environments. A false blocked condition will either self clear or clear after a key cycle.
WARNING: Do not use ACC when towing a trailer with brake controls. Aftermarket trailer brakes will not function properly when ACC is activated because the brakes are electronically controlled.
Failing to do so may result in loss of vehicle control, which could result in serious injury.
WARNING: Do not use tires sizes other than those recommended because this can affect the normal operation of ACC. Failing to do so may result in a loss of vehicle control, which could result in serious injury.
See also:
Fuses
If electrical components in the vehicle are not working, a fuse may have blown. Blown fuses are identified by a broken wire within the fuse. Check the appropriate fuses before replacing an ...
Motorcraft part numbers
Refer to scheduled maintenance information for the appropriate intervals for changing the spark plugs. Note: Replace the spark plugs with ones that meet Ford material and design specificati ...
3.5L V6 EcoBoost™ engine
1. Engine coolant reservoir 2. Brake fluid reservoir 3. Battery 4. Power distribution box 5. Air filter assembly 6. Automatic transmission fluid dipstick (out of view) 7. Engine oil dips ...