Blocked sensor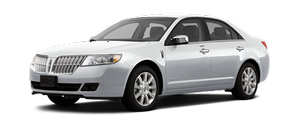 If a message regarding a blocked sensor is displayed, the radar signals from the sensor have been obstructed. The sensor is located behind a fascia cover near the driver side of the lower grille. When the radar signals are obstructed, a vehicle ahead cannot be detected and the ACC will not function. The following table lists possible causes and actions for this message being displayed.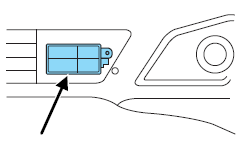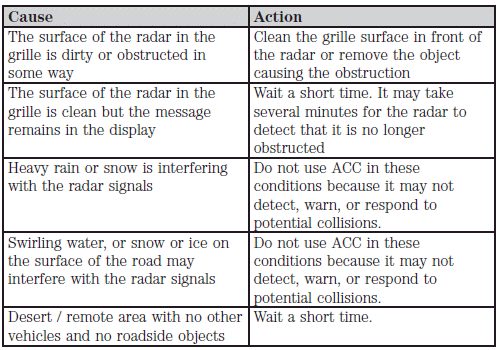 Due to the nature of radar technology, it is possible to get a blockage warning and not be blocked. This can happen, for example, when driving in sparse rural or desert environments. A false blocked condition will either self clear or clear after a key cycle.
WARNING: Do not use ACC when towing a trailer with brake controls. Aftermarket trailer brakes will not function properly when ACC is activated because the brakes are electronically controlled.
Failing to do so may result in loss of vehicle control, which could result in serious injury.
WARNING: Do not use tires sizes other than those recommended because this can affect the normal operation of ACC. Failing to do so may result in a loss of vehicle control, which could result in serious injury.
See also:
Replacing license plate lamp bulbs
1. Make sure the headlamp switch is in the off position. 2. Remove the two screws from the license plate lamp assembly. 3. Remove bulb socket by turning counterclockwise. 4. Carefully pull ...
Glossary of Tire Terminology
• Tire label: A label showing the OE (Original Equipment) tire sizes, recommended inflation pressure and the maximum weight the vehicle can carry. • Tire Identification Number (TIN): A number on ...
Passenger compartment fuse panel
The fuse panel is located under the instrument panel to the left of the steering wheel. The fuses are coded as follows. ...