Perimeter alarm system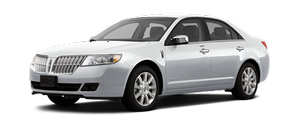 The perimeter alarm system will help protect your vehicle from unauthorized entry.
When the following types of unauthorized entry occur:
• any door, the hood or the trunk is opened without using the keypad or the remote entry transmitter,
• or if the ignition is turned on when using an invalid key, the perimeter alarm will flash the turn signal lamps and sound the horn.
Arming the system
The system is ready to arm whenever the ignition is off. To arm the system, do one of the following:
• Press the

control on the remote entry transmitter.
Note: If you press the

control twice on the remote entry transmitter within three seconds, the horn will chirp once to let you know that all doors, the hood and the trunk are closed. If any of these are not closed, the horn will chirp twice to warn you that they are still open.
• Press the driver or passenger interior door lock control

while the door is open, then close the door.
• Press and hold the 7 • 8 and 9 • 0 controls together on the keyless entry pad to lock the doors (driver's door must be closed).
After locking the doors using any of the methods above, the turn signal lamps will flash once indicating that the perimeter alarm is in the pre-armed mode and will become fully armed in 20 seconds.
Note: Pressing the power door unlock control within the 20-second, pre-armed mode will disarm the system.
When fully armed (after the 20 sec pre-arm mode), any IA keys found inside the vehicle are disabled/inoperable and will not start the engine.
Press

button to re-enable them.
Disarming the system
To disarm the system, do any of the following:
• Unlock the doors by pressing unlock on

the remote entry transmitter.
• Unlock the doors by using your keyless entry pad.
• Enter the vehicle using intelligent access.
• Press the panic control

on the remote entry transmitter. The alarm system will still be armed, but this shuts off the horn and turn lamps when the alarm is sounding.
• Unlock the doors using a key.
Perimeter alarm issues
If there seems to be a potential perimeter alarm system problem with your vehicle, ensure ALL keys/remote entry transmitters are brought to your authorized dealer to aid in troubleshooting.
See also:
Recycled engine coolant
Ford Motor Company does NOT recommend the use of recycled engine coolant since a Ford-approved recycling process is not yet available. Used engine coolant should be disposed of in an appropriate ...
Opening front windows and moon roof
You can open the vehicle's windows, and (if equipped) vent the moon roof by using the control on the transmitter. Refer to Power windows in the Driver Controls chapter for more information. ...
Tire rotation
Rotating your tires at the recommended interval (as indicated in the Scheduled Maintenance chapter) will help your tires wear more evenly, providing better tire performance and longer tire life. ...