Important supplemental restraint system precautions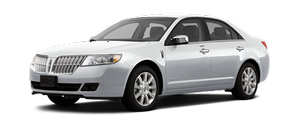 Airbags DO NOT inflate slowly or gently and the risk of injury from a deploying airbag is greatest close to the trim covering the airbag module.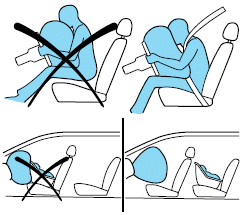 WARNING: All occupants of the vehicle, including the driver, should always properly wear their safety belts, even when an air bag supplemental restraint system (SRS) is provided.
WARNING: When possible, all children 12 years old and under should be properly restrained in a rear seating position.
WARNING: National Highway Traffic Safety Administration (NHTSA) recommends a minimum distance of at least 10 inches (25 cm) between an occupantТs chest and the driver airbag module.
WARNING: Never place your arm over the airbag module as a deploying airbag can result in serious arm fractures or other injuries.
Steps you can take to properly position yourself away from the airbag:
Х Move your seat to the rear as far as you can while still reaching the pedals comfortably.
Х Recline the seat slightly (one or two degrees) from the upright position.
WARNING: Do not put anything on or over the airbag module.
Placing objects on or over the airbag inflation area may cause those objects to be propelled by the airbag into your face and torso causing serious injury.
WARNING: Do not attempt to service, repair, or modify the airbag supplemental restraint system (SRS) or its fuses. See your authorized dealer.
WARNING: Modifying or adding equipment to the front end of the vehicle (including frame, bumper, front end body structure and tow hooks) may affect the performance of the airbag system, increasing the risk of injury. Do not modify the front end of the vehicle.
See also:
Treadwear
The treadwear grade is a comparative rating based on the wear rate of the tire when tested under controlled conditions on a specified government test course. For example, a tire graded 150 would w ...
Important child restraint precautions
WARNING: Always make sure your child is secured properly in a device that is appropriate for their height, age and weight. Child safety restraints must be purchased separately from the vehicle. Fa ...
2009 Lincoln MKS Review
When I was a tween, my older brother had a late-1960s Ford LTD. It was gold, HUGE in a sort of exaggerated way, and it had an old-school charm and soulfulness about it that was unforgettable. I ha ...