Airbag supplemental restraint system (SRS)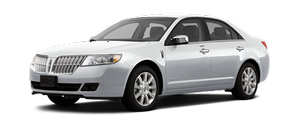 The airbag supplemental restraint system (SRS) is designed to work in conjunction with the safety belts to help protect the driver and front outboard passenger from certain upper body injuries. The term "supplemental restraint" means the airbags are intended as a supplement to the safety belts. Airbags alone cannot protect as well as airbags plus safety belts in impacts for which the airbags are designed to deploy, and airbags do not offer any protection in crashes for which they do not deploy.
See also:
How does the airbag supplemental restraint system work?
The airbag SRS is designed to activate when the vehicle sustains longitudinal deceleration sufficient to cause the sensors to close an electrical circuit that initiates airbag inflation. The ...
Lincoln custom accessories for your vehicle
A wide selection of Lincoln Custom Accessories are available for your vehicle through your local Lincoln or Ford of Canada dealer. These quality accessories have been specifically engineered to fu ...
Safety chains
Always connect the trailer's safety chains to the frame or hook retainers of the vehicle hitch. To connect the trailer's safety chains, cross the chains under the trailer tongue and allow slack fo ...