Trailer towing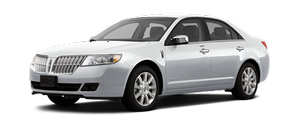 Trailer towing puts additional loads on your vehicle's engine, transmission, axle, brakes, tires and suspension. For your safety and to maximize vehicle performance, be sure to use the proper equipment while towing.
Your vehicle is capable of towing a trailer up to 1,000 lb (454 kg) gross trailer weight with a maximum tongue load of 100 lb (45 kg).
Follow these guidelines to ensure safe towing:
• Do not tow a trailer until your vehicle has been driven at least 500 miles (800 km).
• Consult your local motor vehicle laws for towing a trailer.
• Refer to the instructions included with towing accessories for the proper installation and adjustment specifications.
• Thoroughly prepare your vehicle for towing. Refer to Preparing to tow in this chapter.
• Stay within your vehicle's load limits.
• Use extra caution when driving while trailer towing. Refer to Driving while you tow in this chapter.
• Service your vehicle more frequently if you tow a trailer. Refer to Special operating conditions in your scheduled maintenance.
For load specification terms found on the label and instructions on calculating your vehicle's load, refer to Vehicle loading - with and without a trailer in this chapter. Remember to figure in the tongue load of your loaded vehicle when figuring the total weight.
WARNING: Do not exceed the GVWR or the GAWR specified on the certification label.
WARNING: Towing trailers beyond the maximum recommended gross trailer weight exceeds the limit of the vehicle and could result in engine damage, transmission damage, structural damage, loss of vehicle control, vehicle rollover and personal injury.
See also:
Hill start assist (HSA) system
The hill start assist system makes it easier to pull away when the vehicle is on a slope without the need to use the parking brake. When hill start assist is active, the vehicle will remain statio ...
Driving on hilly or sloping terrain
Although natural obstacles may make it necessary to travel diagonally up or down a hill or steep incline, you should always try to drive straight up or straight down. Avoid driving crosswise or tu ...
Mykey
The MyKey feature allows you to program a restricted driving mode to promote good driving habits. All but one of the keys programmed to the vehicle can be activated as a MyKey . The key will remai ...