Service recommendations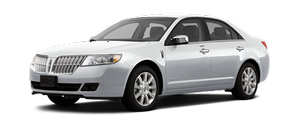 To help you service your vehicle, we provide scheduled maintenance information which makes tracking routine service easy.
If your vehicle requires professional service, your authorized dealer can provide the necessary parts and service. Check your Warranty Guide to find out which parts and services are covered.
Use only recommended fuels, lubricants, fluids and service parts conforming to specifications. Motorcraft parts are designed and built to provide the best performance in your vehicle.
See also:
Windshield wipers
Windshield wiper: Rotate the end of the control away from you to increase the speed of the wipers; rotate towards you to decrease the speed of the wipers. Speed dependent wipers (if equip ...
Basic operating principles
• Drive slower in strong crosswinds which can affect the normal steering characteristics of your vehicle. • Be extremely careful when driving on pavement made slippery by loose sand, water, grave ...
Message center
Your vehicle's message center allows you to configure/personalize certain vehicle options to suit your needs. The message center is also capable of monitoring many vehicle systems and will aler ...