Calculating fuel economy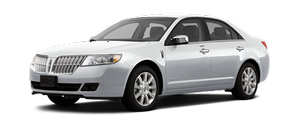 1. Fill the fuel tank completely and record the initial odometer reading (in miles or kilometers).
2. Each time you fill the tank, record the amount of fuel added (in gallons or liters).
3. After at least three to five tank fill-ups, fill the fuel tank and record the current odometer reading.
4. Subtract your initial odometer reading from the current odometer reading.
5. Follow one of the simple calculations in order to determine fuel economy:
Calculation 1: Divide total miles traveled by total gallons used.
Calculation 2: Multiply liters used by 100, then divide by total kilometers traveled.
Keep a record for at least one month and record the type of driving (city or highway). This will provide an accurate estimate of the vehicle's fuel economy under current driving conditions. Additionally, keeping records during summer and winter will show how temperature impacts fuel economy. In general, lower temperatures give lower fuel economy.
See also:
SAFETY
One of the nice things about such an uncluttered backseat in the MKZ Hybrid is that it's just that. Uncluttered. There weren't any problems with my kids using the seat belts on their own. The tw ...
Armrest pass-through
Pull down the door located in back of the armrest in order to store cargo of a longer length such as skis or lumber. Note: Do not exceed 80 lb (36 kg) of weight on the pass-through door. ...
Programming MyKey Optional Settings
Turn the ignition on using an admin key. To program the optional settings, use the message center buttons to do the following: 1. Press SETUP until RESET FOR MYKEY SETTINGS is displayed. 2. Pre ...