Autolock feature (if enabled)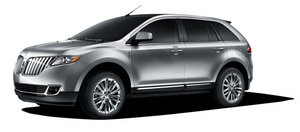 The autolock feature will lock all the doors when:
• all the doors are closed
• the ignition is on,
• you shift into any gear putting the vehicle in motion, and
• the vehicle attains a speed greater than 12 mph (20 km/h).
The autolock feature repeats when:
• any door is opened then closed while the ignition is on and the vehicle speed is 9 mph (15 km/h) or lower, and
• the vehicle then attains a speed greater than 12 mph (20 km/h).
Deactivating/activating autolock feature
Your vehicle comes with the autolock feature activated; there are three methods to enable/disable this feature:
• Through your authorized dealer,
• using a keypad procedure, or
• by using the instrument cluster message center. Refer to Message center in the Instrument Cluster chapter.
Note: The autolock feature can be activated/deactivated independently of the autounlock feature.
Keyless entry keypad autolock enable/disable procedure
1. Turn the ignition off.
2. Close all the doors.
3. Enter factory–set 5–digit entry code.
4. Press and hold the 3 • 4. While holding the 3 • 4 press the 7 • 8.
5. Release the 7 • 8.
6. Release the 3 • 4.

The user should receive a horn chirp to indicate the system has been disabled or a chirp followed by a honk to indicate the system has been enabled.
See also:
Passenger compartment fuse panel
The fuse panel is located behind a trim panel on the left side of the driver's footwell near the parking brake. To remove the trim panel, slide the release lever to the right then pull the trim pa ...
APA finished
When active park assist has completed the automated steering, the message center displays ACTIVE PARK FINISHED followed by a chime. The driver is responsible to assess and correct as necessary th ...
HomeLink Wireless Control System
The HomeLink Wireless Control System, located on the driver's visor, provides a convenient way to replace up to three hand-held transmitters with a single built-in device. This feature will ...