Autolock feature (if enabled)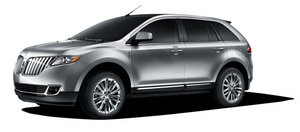 The autolock feature will lock all the doors when:
• all the doors are closed
• the ignition is on,
• you shift into any gear putting the vehicle in motion, and
• the vehicle attains a speed greater than 12 mph (20 km/h).
The autolock feature repeats when:
• any door is opened then closed while the ignition is on and the vehicle speed is 9 mph (15 km/h) or lower, and
• the vehicle then attains a speed greater than 12 mph (20 km/h).
Deactivating/activating autolock feature
Your vehicle comes with the autolock feature activated; there are three methods to enable/disable this feature:
• Through your authorized dealer,
• using a keypad procedure, or
• by using the instrument cluster message center. Refer to Message center in the Instrument Cluster chapter.
Note: The autolock feature can be activated/deactivated independently of the autounlock feature.
Keyless entry keypad autolock enable/disable procedure
1. Turn the ignition off.
2. Close all the doors.
3. Enter factory–set 5–digit entry code.
4. Press and hold the 3 • 4. While holding the 3 • 4 press the 7 • 8.
5. Release the 7 • 8.
6. Release the 3 • 4.

The user should receive a horn chirp to indicate the system has been disabled or a chirp followed by a honk to indicate the system has been enabled.
See also:
Steering
To help prevent damage to the power steering system: • Never hold the steering wheel at its furthest turning points (until it stops) for more than a few seconds when the engine is running. • Do no ...
Lincoln drive control
"Lincoln Drive Control is where the magic happens because it pulls all of the car's adjustable elements - suspension, steering, engine, and gearbox - into one harmonized system," explains ...
Side-curtain airbag system
WARNING: Do not place objects or mount equipment on or near the headliner at the siderail that may come into contact with a deploying side air curtain. Failure to follow these instruct ...