Intelligent access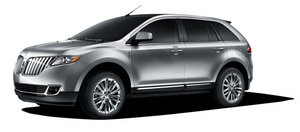 Your intelligent access system uses a radio frequency (RF) signal to communicate with your vehicle and authorize your vehicle to unlock when commanded (either by touching the inside of the driver or front passenger exterior door handle, by activating the exterior power liftgate button, or a button on the transmitter itself). If excessive RF interference is present in the area, or if your transmitter battery is low, it may be necessary to mechanically unlock your door. The mechanical key blade in your IA key can be used to open the driver's door in this situation (refer to Intelligent access key in this chapter for more information on the location and use of the mechanical key blade).
Your vehicle will allow you to unlock and enter your vehicle without actively using a key or transmitter. You can use the intelligent access feature at the front doors or at the liftgate. You can activate the intelligent access feature as long as you have one of your IA keys within range of the front doors or the liftgate.
Activating intelligent access at the front doors: If your IA key is within 3 feet (1 meter) of the front doors you can activate your intelligent access system by pulling a front exterior door handle. The door(s) will automatically unlock and the door can be opened.
To lock the doors, press and hold for half a second the lock area on either front door handle (black button on chrome handled doors or the small bump on painted door handles).
Activating intelligent access at the liftgate: If your IA key is within 3 feet (1 meter) of the liftgate, you can activate your intelligent access system by pressing the exterior liftgate release button on the top of the liftgate pull-cup handle. The liftgate will release and open.
Push button start: The push button start system allows you to start your vehicle without using a key. Refer to Push button start system in the Driving chapter.
See also:
How Temperature Affects Your Tire Pressure
The tire pressure monitoring system (TPMS) monitors tire pressure in each pneumatic tire. While driving in a normal manner, a typical passenger tire inflation pressure may increase approximately 2 ...
Arming the system
When armed, this system will respond if unauthorized entry is attempted. When unauthorized entry occurs, the system will flash the turn signal lamps and will sound the horn. The system is ready t ...
Sand
When driving over sand, try to keep all four wheels on the most solid area of the trail. Avoid reducing the tire pressures but shift to a lower gear and drive steadily through the terrain. Apply t ...