Opening the power liftgate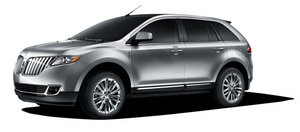 Press

twice within three seconds to fully unlatch and open the liftgate.
WARNING: Make sure all persons are clear of the liftgate area before using power liftgate control.
In order to fully lower and latch the liftgate, press the control twice.
If the liftgate stops mid-travel, it may have detected an obstacle. Check to ensure the liftgate swing zone is free from obstruction and reset the power assist by manually closing the liftgate. Normal operation can then be resumed. Liftgate open/close can be reversed by pressing

twice within three seconds.
WARNING: Make sure the liftgate is closed to prevent exhaust fumes from being drawn into the vehicle. This will also prevent passengers and cargo from falling out. If you must drive with the liftgate open, keep the vents open so outside air comes into the vehicle.
See also:
Information contained on the tire sidewall
Both U.S. and Canada Federal regulations require tire manufacturers to place standardized information on the sidewall of all tires. This information identifies and describes the fundamental charac ...
If your vehicle goes off the edge of the pavement
• If your vehicle goes off the edge of the pavement, slow down, but avoid severe brake application, ease the vehicle back onto the pavement only after reducing your speed. Do not turn the steering ...
Real-time damping
Compared to the fixed-rate damper standard on the 2012 MKT, the CCD damper on the 2013 MKT offers dramatically expanded control range. CCD utilizes 46 inputs to feed data to a sophisticated control ...