Extending the engine run time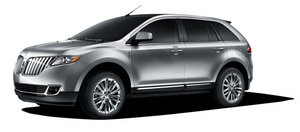 To keep the engine running for another remote start duration, repeat Steps 1 and 2 with the engine still running. If you programmed the duration to last 10 minutes, the second 10 minutes will begin immediately so that, for example, if the vehicle had been running from the first remote start for five minutes, the engine will continue to run for a total of 15 minutes. You can only extend the remote start once.
If the vehicle is remote started then remote stopped, wait at least five seconds before remote starting a second time.
The ignition must be turned on and then back off or allow one hour to pass before using remote start again if additional remote starts are desired.
See also:
Low fluid level
Do not drive the vehicle if the fluid level does not show at all on the dipstick. Driving the vehicle with less than the recommended fluid level may result in transmission failure. An under ...
Ford esp extended service plans (U.S. only)
More than 32 million Ford and Lincoln owners have discovered the powerful protection of Ford ESP. It is the only extended service plan backed by Ford Motor Company, and provides "peace of mind" ...
Measuring techniques
Your best source of information about actual fuel economy is you, the driver. You must gather information as accurately and consistently as possible. Fuel expense, frequency of fill-ups or fuel ga ...