Sample MP3 structure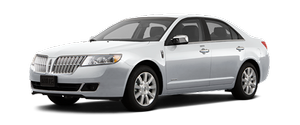 If you are burning your own MP3 discs, it is important to understand how the system will read the structures you create. While various files may be present, (files with extensions other than mp3), only files with the .mp3 extension will be played. Other files will be ignored by the system. This enables you to use the same MP3 disc for a variety of tasks on your work computer, home computer and your in-vehicle system.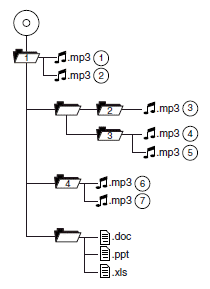 In track mode, the system will display and play the structure as if it were only one level deep (all .mp3 files will be played, regardless of being in a specific folder). In folder mode, the system will only play the .mp3 files in the current folder.
See also:
Passenger compartment fuse panel
The fuse panel is located under the instrument panel to the left of the steering wheel. The fuses are coded as follows. ...
Programming MyKey Optional Settings
Turn the ignition on using an admin key. To program the optional settings, use the message center buttons to do the following: 1. Press SETUP until RESET FOR MYKEY SETTINGS is displayed. 2. Press ...
Display Mode
Press the right arrow on the left steering wheel mounted button when Display Mode is selected. The boxes in the upper right corner of the screen indicate that there are multiple screens that you c ...