Away from home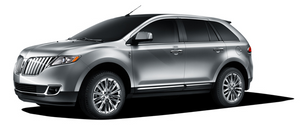 If you are away from home when your vehicle needs service, contact the Ford Customer Relationship Center or use the online resources listed below to find the nearest authorized dealer.
In the United States:
Mailing address
Ford Motor Company
Customer Relationship Center
P.O. Box 6248
Dearborn, MI 48121
Telephone
1-800-392-3673 (FORD)
TDD for the hearing impaired: 1-800-232-5952)
Online
Additional information and resources are available online at lincolnowner.com
• U.S. dealer locator by Dealer Name, City/State, or Zip Code
• Owner Guides
• Maintenance Schedules
• Recalls
• Ford Extended Service Plans
• Ford Genuine Accessories
• Service specials and promotions.
In Canada:
Mailing address
Lincoln Centre
Ford Motor Company of Canada, Limited
P.O. Box 2000
Oakville, Ontario L6J 5E4
Telephone
1-800-387-9333
Online
www.lincolncanada.com
Additional assistance
If you have questions or concerns, or are unsatisfied with the service you are receiving, follow these steps:
1. Contact your Sales Representative or Service Advisor at your selling/servicing authorized dealer.
2. If your inquiry or concern remains unresolved, contact the Sales Manager, Service Manager or Customer Relations Manager.
3. If you require assistance or clarification on Ford Motor Company policies, please contact the Ford Customer Relationship Center In order to help you serve you better, please have the following information available when contacting a Customer Relationship Center:
• Vehicle Identification Number (VIN)
• Your telephone number (home and business)
• The name of the authorized dealer and city where located
• The vehicle's current odometer reading
In some states, you must directly notify Ford in writing before pursuing remedies under your state's warranty laws. Ford is also allowed a final repair attempt in some states.
In the United States, a warranty dispute must be submitted to the BBB AUTO LINE before taking action under the Magnuson-Moss Warranty Act, or to the extent allowed by state law, before pursuing replacement or repurchase remedies provided by certain state laws. This dispute handling procedure is not required prior to enforcing state created rights or other rights which are independent of the Magnuson-Moss Warranty Act or state replacement or repurchase laws.
See also:
Deactivating/activating autolock feature
Your vehicle comes with the autolock features activated; there are four methods to enable/disable this feature: • Through your authorized dealer, • by using a power door unlock/lock sequence, or ...
Connecting the jumper cables
Note: In the illustration, the vehicle on the bottom is used to designate the assisting (boosting) battery. 1. Connect the positive (+) jumper cable to the positive (+) terminal of the discha ...
One-touch up or down (all windows)
This feature allows the windows to open or close fully without holding the control down. To operate one-touch down, press the switch completely down to the second detent and release quickly. Th ...