Engine oil and filter recommendations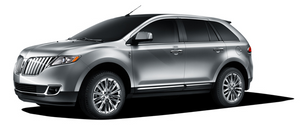 Look for this certification trademark.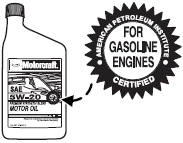 Use SAE 5W-20 engine oil
Only use oils certified for gasoline engines by the American Petroleum Institute (API). An oil with this trademark symbol conforms to the current engine and emission system protection standards and fuel economy requirements of the International Lubricant Standardization and Approval Committee (ILSAC), comprised of U.S. and Japanese automobile manufacturers.
To protect your engine and engine's warranty, use Motorcraft SAE 5W-20 or an equivalent SAE 5W-20 oil meeting Ford specification WSS-M2C945-A. SAE 5W-20 oil provides optimum fuel economy and durability performance meeting all requirements for your vehicle's engine. Refer to Maintenance product specifications and capacities later in this chapter for more information.
Do not use supplemental engine oil additives, cleaners or other engine treatments. They are unnecessary and could lead to engine damage that is not covered by Ford warranty.
Change your engine oil and filter according to the appropriate schedule listed in the scheduled maintenance information.
Ford production and Motorcraft replacement oil filters are designed for added engine protection and long life. If a replacement oil filter is used that does not meet Ford material and design specifications, start-up engine noises or knock may be experienced.
It is recommended you use the appropriate Motorcraft oil filter or another with equivalent performance for your engine application.
See also:
Jump starting
1. Start the engine of the booster vehicle and run the engine at moderately increased speed. 2. Start the engine of the disabled vehicle. 3. Once the disabled vehicle has been started, run both ...
Genuine Ford parts and service
When planning your maintenance services, consider your dealership for all your vehicle's needs. There are a lot of reasons why visiting your dealership for all your service needs is a great way ...
Engine drivebelt routing
3.7L V6 engine 1. Short drivebelt is on first pulley groove closest to engine (except vehicles with electric power assisted steering). 2. Long drivebelt is on second pulley groove farthest from ...