Wrecker towing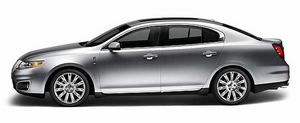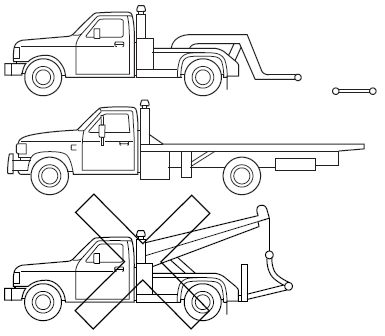 If you need to have your vehicle towed, contact a professional towing service or, if you are a member of a roadside assistance program, your roadside assistance service provider.
It is recommended that your vehicle be towed with a wheel lift or flatbed equipment. Do not tow with a slingbelt. Ford Motor Company has not approved a slingbelt towing procedure.
If the vehicle is towed by other means or incorrectly, vehicle damage may occur.
If your vehicle is to be towed using wheel lift equipment, the non-lifted wheels must be placed on a dolly to prevent damage to the vehicle.
Place a rag on top of the hoist cable below the fascia when loading or unloading a vehicle on a flatbed wrecker to prevent surface damage to the fascia.
Ford Motor Company produces a towing manual for all authorized tow truck operators. Have your tow truck operator refer to this manual for proper hook-up and towing procedures for your vehicle.
See also:
Disposal of airbags and airbag equipped vehicles(including pretensioners)
Contact your authorized dealer as soon as possible. Airbags MUST BE disposed of by qualified personnel. ...
Trailer brakes
Be sure your trailer conforms to all applicable local and Federal regulations regarding trailer braking. If your trailer is equipped with electronically-controlled brakes you will need to have an ...
VReporting safety defects (Canada Only)
If you believe that your vehicle has a defect which could cause a crash or could cause injury or death, you should immediately inform Transport Canada, using their toll-free number: 1Ц800Ц333Ц0510 ...