Going & Stopping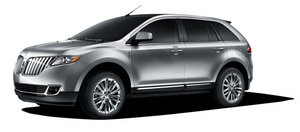 The MKX's drivetrain is another high point, with a 3.5-liter V-6 generating 265 horsepower at 6,250 rpm and 250 pounds-feet of torque at 4,500 rpm. The transmission is a six-speed automatic developed with GM and employed in that company's new GMC Acadia, Saturn Outlook and Buick Enclave. Lincoln cites a 0-60 mph time of 8.1 seconds for the MKX with AWD. It's not as quick as some competitors, but I have no complaints about the character of the acceleration or how quickly the transmission, and the MKX as a whole, responds to the demands of a fidgety right foot.
The electronically controlled Intelligent AWD system is claimed to apportion torque between the front and rear axles based on conditions, to prevent wheelspin rather than simply react to it. It did the job on Chicago's snow and ice (and freezing rain and slush and road salt...). Included in both the front- and all-wheel-drive MKX are four-wheel antilock brakes and an electronic stability system with traction control.
With EPA gas mileage estimates of 18/25 mpg (city/highway) with FWD and 17/24 mpg with AWD, the MKX isn't the most efficient model out there — thirstier than the Lexus RX 350 in city driving but better overall than Audi's Q7 and BMW's X5. Another bonus: The Lincoln uses regular gasoline.
The four-wheel disc brakes aren't the SUV's best attribute. The pedal is mushy and needs more pressure than it should.
See also:
Connecting the jumper cables
Note: In the illustration, the vehicle on the bottom is used to designate the assisting (boosting) battery. 1. Connect the positive (+) jumper cable to the positive (+) terminal of the discha ...
Highway Hazards
No matter how carefully you drive there's always the possibility that you may eventually have a flat tire on the highway. Drive slowly to the closest safe area out of traffic. This may further dam ...
Positions of the ignition
1. Off— locks the gearshift lever and allows key removal. This position also shuts the engine and all electrical accessories off. Note: In order to switch off the engine while the vehicle ...