Electronic compass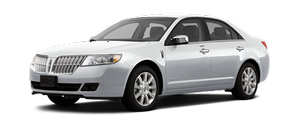 The compass heading is displayed in the center integrated display (CID).
The compass reading may be affected when you drive near large buildings, bridges, power lines and powerful broadcast antenna. Magnetic or metallic objects placed in, on or near the vehicle may also affect compass accuracy.
Usually, when something affects the compass readings, the compass will correct itself after a few days of operating your vehicle in normal conditions. If the compass still appears to be inaccurate, a manual calibration may be necessary. Refer to Compass calibration adjustment.
Most geographic areas (zones) have a magnetic north compass point that varies slightly from the northerly direction on maps. This variation is four degrees between adjacent zones and will become noticeable as the vehicle crosses multiple zones. A correct zone setting will eliminate this error. Refer to Compass zone adjustment.
See also:
Positive retention floor mat
WARNING: Always use floor mats that are designed to fit the foot well of your vehicle. Only use floor mats that leave the pedal area unobstructed. Only use floor mats that are firmly secu ...
Changing the wiper blades
1. Pull the wiper blade and arm away from the glass. 2. Squeeze the locking tabs to release the blade from the arm and pull the blade away from the arm to remove it. 3. Attach the new bla ...
Driving
Equipped with an optional EcoBoost turbocharged V-6 engine and all-wheel drive, the MKT hustles through town and carves up interstates like a sushi chef does tuna. It's a thrilling experience, mai ...