Unlocking and locking the doors using keyless entry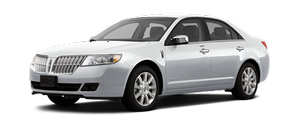 To unlock the driver's door, enter the factory set 5-digit code or your personal code. Each number must be pressed within five seconds of each other. The interior lamps will illuminate. Note: If the two-stage unlocking feature is disabled, all doors will unlock; for more information regarding two-stage unlocking, refer to the Central unlocking/two-stage unlocking section earlier in this chapter.
To unlock all doors, enter the factory set code or your personal code, then press the 3 • 4 control within five seconds.
Note: If equipped with intelligent access, if the intelligent access key is within 3 feet (1 meter) of the driver door, your keyless entry keypad code will still function the same way, but the driver's door will also unlock with each keypad button press.
To open the trunk, enter the factory set code or your personal code, then press the 5 • 6 control within five seconds.
To lock all doors, press and hold the 7 • 8 and the 9 • 0 at the same time (with the driver's door closed) for one second will lock all doors.
You do not need to enter the keypad code first.
See also:
Stowing the wheel and jack
1. Fully collapse the jack and place it back in the storage area in the trunk. 2. Replace the jack retention bolt to secure the jack. 3. Place the tire in the storage bin in the trunk. 4. Replace ...
Choosing the right fuel
Use only UNLEADED fuel or UNLEADED fuel blended with a maximum of 10% ethanol. Do not use fuel ethanol (E85), diesel, methanol, leaded fuel or any other fuel. The use of leaded fuel is prohibited ...
Identifying components in the engine compartment
1. Engine coolant reservoir 2. Power steering fluid reservoir 3. Brake fluid reservoir 4. Battery 5. Power distribution box 6. Air filter assembly 7. Transmission fluid dipstick 8. Eng ...