Unlocking and locking the doors using keyless entry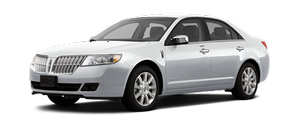 To unlock the driver's door, enter the factory set 5-digit code or your personal code. Each number must be pressed within five seconds of each other. The interior lamps will illuminate. Note: If the two-stage unlocking feature is disabled, all doors will unlock; for more information regarding two-stage unlocking, refer to the Central unlocking/two-stage unlocking section earlier in this chapter.
To unlock all doors, enter the factory set code or your personal code, then press the 3 • 4 control within five seconds.
Note: If equipped with intelligent access, if the intelligent access key is within 3 feet (1 meter) of the driver door, your keyless entry keypad code will still function the same way, but the driver's door will also unlock with each keypad button press.
To open the trunk, enter the factory set code or your personal code, then press the 5 • 6 control within five seconds.
To lock all doors, press and hold the 7 • 8 and the 9 • 0 at the same time (with the driver's door closed) for one second will lock all doors.
You do not need to enter the keypad code first.
See also:
Overview
Lincoln introduced its first hybrid - the new 2011 Lincoln MKZ Hybrid - a premium midsize car poised to be the most fuel-efficient luxury sedan in America. Ford Motor Company - America's largest d ...
Inflating your tires
Safe operation of your vehicle requires that your tires are properly inflated. Remember that a tire can lose up to half of its air pressure without appearing flat. Every day before you drive, che ...
Treadwear
The treadwear grade is a comparative rating based on the wear rate of the tire when tested under controlled conditions on a specified government test course. For example, a tire graded 150 would w ...