Checking the engine oil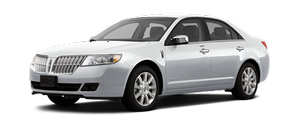 Refer to the scheduled maintenance information for the appropriate intervals for checking the engine oil.
1. Make sure the vehicle is on level ground.
2. Turn the engine off and wait 15 minutes for the oil to drain into the oil pan.
3. Set the parking brake and ensure the gearshift is securely latched in P (Park).
4. Open the hood. Protect yourself from engine heat.
5. Locate and carefully remove the engine oil level dipstick.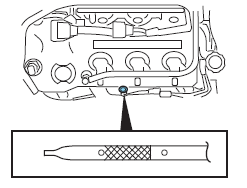 6. Wipe the dipstick clean. Insert the dipstick fully, then remove it again.
• If the oil level is within this range, the oil level is acceptable.
DO NOT ADD OIL.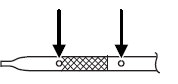 • If the oil level is below this mark, engine oil must be added to raise the level within the normal operating range.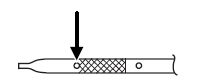 • If required, add engine oil to the engine. Refer to Adding engine oil in this chapter.
• Do not overfill the engine with oil. Oil levels above this mark may cause engine damage. If the engine is overfilled, some oil must be removed from the engine by an authorized dealer.
7. Put the dipstick back in and ensure it is fully seated.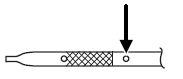 See also:
Opening the trunk
Press twice within three seconds to open the trunk. • Ensure that the trunk is closed and latched before driving your vehicle. Failure to properly latch the trunk may cause objects to fall o ...
Battery
Your vehicle is equipped with a Motorcraft maintenance-free battery which normally does not require additional water during its life of service. Note: If your battery has a cover/shield, make ...
Cleaner air
Ford endorses the use of reformulated "cleaner-burning" gasolines to improve air quality, per the recommendations in the Choosing the right fuel section. ...