Measuring techniques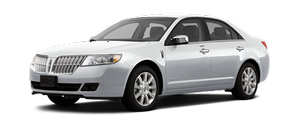 Your best source of information about actual fuel economy is you, the driver. You must gather information as accurately and consistently as possible. Fuel expense, frequency of fill-ups or fuel gauge readings are NOT accurate as a measure of fuel economy. We do not recommend taking fuel economy measurements during the first 1,000 miles (1,600 km) of driving (engine break-in period). You will get a more accurate measurement after 2,000 miles–3,000 miles (3,000 km–5,000 km).
See also:
Understanding your tire pressure monitoring system (TPMS)
The tire pressure monitoring system measures pressure in your four road tires and sends the tire pressure readings to your vehicle. The low tire pressure warning light will turn on if the tire pre ...
Emergency maneuvers
• In an unavoidable emergency situation where a sudden sharp turn must be made, remember to avoid "over-driving" your vehicle (i.e., turn the steering wheel only as rapidly and as far as required ...
Replacing front parking lamp/turn signal/sidemarker bulbs
1. Make sure headlamp switch is in the off position, then open the hood. 2. Reach in behind the headlamp assembly to access the bulb sockets and connectors. 3. Locate the parking/turn signal l ...