Emission control system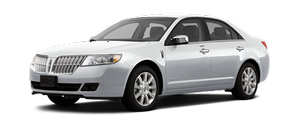 Your vehicle is equipped with various emission control components and a catalytic converter which will enable your vehicle to comply with applicable exhaust emission standards. To make sure that the catalytic converter and other emission control components continue to work properly:
Х Use only the specified fuel listed.
Х Avoid running out of fuel.
Х Do not turn off the ignition while your vehicle is moving, especially at high speeds.
Х Have the items listed in scheduled maintenance information performed according to the specified schedule.
The scheduled maintenance items listed in scheduled maintenance information are essential to the life and performance of your vehicle and to its emissions system.
If other than Ford, Motorcraft or Ford-authorized parts are used for maintenance replacements or for service of components affecting emission control, such non-Ford parts should be equivalent to genuine Ford Motor Company parts in performance and durability.
WARNING: Do not park, idle, or drive your vehicle in dry grass or other dry ground cover. The emission system heats up the engine compartment and exhaust system, which can start a fire.
Illumination of the service engine soon

indicator, charging system warning light or the temperature warning light, fluid leaks, strange odors, smoke or loss of engine power could indicate that the emission control system is not working properly.
An improperly operating or damaged exhaust system may allow exhaust to enter the vehicle. Have a damaged or improperly operating exhaust system inspected and repaired immediately.
WARNING: Exhaust leaks may result in entry of harmful and potentially lethal fumes into the passenger compartment.
Do not make any unauthorized changes to your vehicle or engine. By law, vehicle owners and anyone who manufactures, repairs, services, sells, leases, trades vehicles, or supervises a fleet of vehicles are not permitted to intentionally remove an emission control device or prevent it from working. Information about your vehicleТs emission system is on the Vehicle Emission Control Information Decal located on or near the engine. This decal also lists engine displacement.
Please consult your Warranty Guide for complete emission warranty information.
See also:
Replacing the battery
The intelligent access key (IA key) uses one coin type three-volt lithium battery CR2032 or equivalent. To replace the battery: 1. Remove the backup key from the transmitter, then twist a th ...
Child restraint and safety belt maintenance
Inspect the vehicle safety belts and child safety seat systems periodically to make sure they work properly and are not damaged. Inspect the vehicle and child seat safety belts to make sure there ...
Information contained on the tire sidewall
Both U.S. and Canada Federal regulations require tire manufacturers to place standardized information on the sidewall of all tires. This information identifies and describes the fundamental charac ...