On-board diagnostics (OBD-II)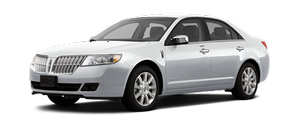 Your vehicle is equipped with a computer that monitors the engine's emission control system. This system is commonly known as the on-board diagnostics system (OBD-II). The OBD-II system protects the environment by ensuring that your vehicle continues to meet government emission standards. The OBD-II system also assists your authorized dealer in properly servicing your vehicle. When the service engine soon

indicator illuminates, the OBD-II system has detected a malfunction. Temporary malfunctions may cause the service engine soon

indicator to illuminate. Examples are:
1. The vehicle has run out of fuel—the engine may misfire or run poorly.
2. Poor fuel quality or water in the fuel—the engine may misfire or run poorly.
3. The fuel fill inlet may not have been properly closed. See Easy Fuel "no cap" fuel system in this chapter.
4. Driving through deep water—the electrical system may be wet.
These temporary malfunctions can be corrected by filling the fuel tank with good quality fuel, properly closing the fuel fill inlet or letting the electrical system dry out. After three driving cycles without these or any other temporary malfunctions present, the service engine soon

indicator should stay off the next time the engine is started. A driving cycle consists of a cold engine startup followed by mixed city/highway driving. No additional vehicle service is required.
If the service engine soon

indicator remains on, have your vehicle serviced at the first available opportunity. Although some malfunctions detected by the OBD-II may not have symptoms that are apparent, continued driving with the service engine soon

indicator on can result in increased emissions, lower fuel economy, reduced engine and transmission smoothness, and lead to more costly repairs.
See also:
Overhead console
The appearance of your vehicle's overhead console will vary according to your option package. Storage compartment Press on the rear edge of the compartment door to open. The storage compart ...
Filling the tank
The advertised fuel capacity of the fuel tank on your vehicle is equal to the rated refill capacity of the fuel tank as listed in the Maintenance product specifications and capacities section of t ...
Safety belt locking modes
All safety restraints in the vehicle are combination lap and shoulder belts. The driver safety belt has the first locking mode and the front outboard passenger and rear seat safety belts have both ...