Mykey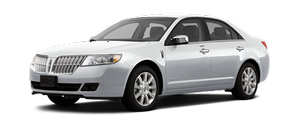 The MyKey feature allows you to program a restricted driving mode to promote good driving habits. All but one of the keys programmed to the vehicle can be activated as a MyKey . The key will remain restricted until MyKey is cleared. Any remaining keys are referred to as an "administrator key" or admin key. The admin key can be used to create a MyKey , program optional MyKey settings, and clear the MyKey feature. When the MyKey feature is enabled the user can use system check in the message center to see how many MyKeys and admin keys are programmed to the vehicle, and see the total distance the vehicle has been driven with the MyKey active.
See also:
Driving off-highway with AWD vehicles
AWD vehicles are equipped for driving on sand, snow, mud and rough roads and have operating characteristics that are somewhat different from conventional vehicles, both on and off the highway. ...
Detection issues
The radar sensor has a limited field of vision. In some situations it may not detect vehicles at all or detect a vehicle later than expected. Detection issues can occur: • When driving on a di ...
Preparing your vehicle
When the battery is disconnected or a new battery is installed, the automatic transmission must relearn its shift strategy. As a result, the transmission may have firm and/or soft shifts. This ope ...