Programming MyKey Optional Settings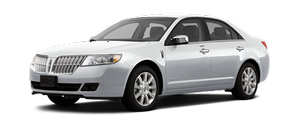 Turn the ignition on using an admin key. To program the optional settings, use the message center buttons to do the following:
1. Press SETUP until RESET FOR MYKEY SETTINGS is displayed.
2. Press and release the RESET button to display MyKey setup menus.
The first menu shown is:
MYKEY MAX MPH <80 MPH> OFF
3. If you don't want to change the maximum speed setting, press the SETUP button to display the next menu. The remaining menus appear as follows with the default settings shown:
MYKEY MPH TONES 45 55 65 <OFF>
MYKEY VOLUME LIMIT <ON> OFF
MYKEY ADVTRAC CTRL ON <OFF>.
4. On any of the menus press RESET to highlight your choice with the <…>.
5. Press SETUP to enter your choice. The next optional setting will be displayed.
6. Repeat Steps 4 and 5 until you are done changing the optional settings.
See also:
Mykey
The MyKey feature allows you to program a restricted driving mode to promote good driving habits. All but one of the keys programmed to the vehicle can be activated as a MyKey . The key will remai ...
System warnings
System warnings alert you to possible problems or malfunctions in your vehicle's operating systems. In the event of a multiple warning situation, the message center will cycle the display to sh ...
ACC not available
Several conditions exist which can cause ACC to deactivate or prevent ACC from activating when requested. These conditions include: • The sensor is blocked, refer to Blocked sensor in this sectio ...