Programming MyKey Optional Settings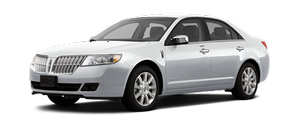 Turn the ignition on using an admin key. To program the optional settings, use the message center buttons to do the following:
1. Press SETUP until RESET FOR MYKEY SETTINGS is displayed.
2. Press and release the RESET button to display MyKey setup menus.
The first menu shown is:
MYKEY MAX MPH <80 MPH> OFF
3. If you don't want to change the maximum speed setting, press the SETUP button to display the next menu. The remaining menus appear as follows with the default settings shown:
MYKEY MPH TONES 45 55 65 <OFF>
MYKEY VOLUME LIMIT <ON> OFF
MYKEY ADVTRAC CTRL ON <OFF>.
4. On any of the menus press RESET to highlight your choice with the <…>.
5. Press SETUP to enter your choice. The next optional setting will be displayed.
6. Repeat Steps 4 and 5 until you are done changing the optional settings.
See also:
BLIS and/or CTA on/off and disable operation
The BLIS and/or the CTA can be turned off via the message center. If either the BLIS and/or the CTA is turned off, the systems will automatically turn back on at the next ignition key cycle. When ...
U.S. Dot tire identification number (TIN)
Both U.S. and Canada Federal regulations require tire manufacturers to place standardized information on the sidewall of all tires. This information identifies and describes the fundamental charac ...
Driving on hilly or sloping terrain
Although natural obstacles may make it necessary to travel diagonally up or down a hill or steep incline, you should always try to drive straight up or straight down. Note: Avoid driving crosswise ...