Programming MyKey Optional Settings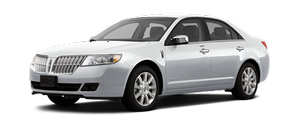 Turn the ignition on using an admin key. To program the optional settings, use the message center buttons to do the following:
1. Press SETUP until RESET FOR MYKEY SETTINGS is displayed.
2. Press and release the RESET button to display MyKey setup menus.
The first menu shown is:
MYKEY MAX MPH <80 MPH> OFF
3. If you don't want to change the maximum speed setting, press the SETUP button to display the next menu. The remaining menus appear as follows with the default settings shown:
MYKEY MPH TONES 45 55 65 <OFF>
MYKEY VOLUME LIMIT <ON> OFF
MYKEY ADVTRAC CTRL ON <OFF>.
4. On any of the menus press RESET to highlight your choice with the <…>.
5. Press SETUP to enter your choice. The next optional setting will be displayed.
6. Repeat Steps 4 and 5 until you are done changing the optional settings.
See also:
Memory feature
The steering column positions are saved when doing a memory set function and can be recalled along with the vehicle personality features when a memory position is selected through the remote entry ...
Child safety locks
When these locks are set, the rear doors cannot be opened from the inside. The rear doors can be opened from the outside when the childproof door locks are set, but the doors are unlock ...
3.5-liter ecoboost V6
Nine out of 10 MKT retail customers opt for twin-turbo 3.5-liter EcoBoost V6, an engine that provides V8 performance with the fuel economy of a V6. In terms of horsepower from optional engines, the ...